Men in the News
26th August 1955
Page 38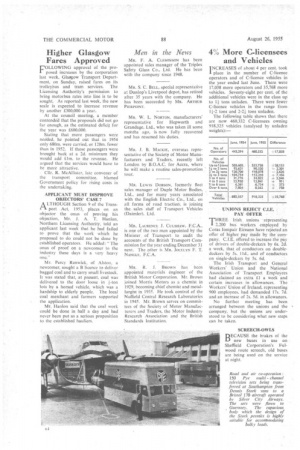 Page 38, 26th August 1955 —
Men in the News
Close
MR. F. A. CLEtvtiNsom has been appointed sales manager of the Triplex Safety Glass Co., Ltd. He has been with the company since 1948.
MR. S. C. BELL, special representative at Dunlop's Liverpool depot, has retired after 35 years with the company. He has been succeeded by MR. ARTHUR PIERBOINT.
MR. W. L. NORTON, manufacturers' representative for Hepworth and Grandage, Ltd., who was taken ill some months ago, is now fully recovered and has resumed his duties.
MR. J. B. MACKIE, overseas representative of the Society of Motor Manufacturers and Traders, recently left London by B.O.A.C. for Accra, where he will make a routine sales-promotion ' tour.
MR. LEWIS DOBSON, formerly fleet sales manager of Duple Motor Bodies, Ltd., and for many years associated with the English Electric Co., Ltd., on all forms of road traction, is joining the.. sales staff of Transport Vehicles (Daimler), Ltd.
MR. LAURENCE J. CULSHAW, F.C.A., is one of the twO men appointed by the Minister. of Transport to audit the accounts of the British Transport Commission for the year ending December 31 next. The other is .Ma. Jou:LYN F. T. NANGLE, F.C.A.
MR. R. J. BROWN has been appointed materials engineer of the British Motor Corporation. Mr. Brown joined Morris Motors as a chemist in 1929, becoming chief chemist and metallurgist in 1935. He took control of the Nuffield Central Research Laboratories in 1945. Mr. Brown serves on committees of the Society of Motor Manufacturers and Traders, the Motor Industry Research Association and the British Standards Institution.