Passing Comments
26th August 1955
Page 34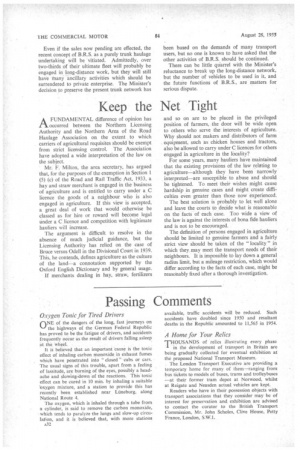 Page 35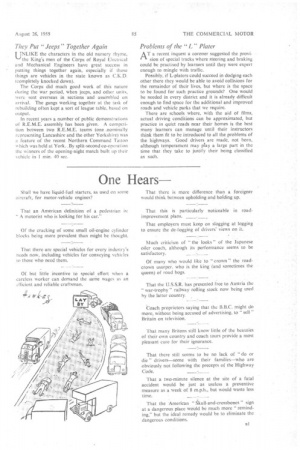 Page 34, 26th August 1955 —
Passing Comments
Close
Oxygen Tonic for Tired Drivers
QNE of the dangers of the long, fast journeys on the highways of the German Federal Republic has proved to be the fatigue of drivers, and accidents frequently occur as the result of drivers falling asleep at the. wheel. ,
It is believed that an important 'cause is the toxic effect of inhaling carbon monoxide in exhaust fumes which have penetrated into " closed " cabs or cars. The usual signs of this trouble, apart from a feeling of lassitude, are burning of the eyes, possibly a headache and slowing-down of the reactions. This toxic effect can be cured in 10 min. by inhaling a suitable 'oxygen mixture, and a station to provide this has recently been established near Luneburg, along National Route 4.
The oxygen, which is inhaled through a tube from a cylinder, is said to remove the carbon monoxide, which tends to paralyze -the lungs and slow-up circulation, and it is believed that, with more stations A32 available, traffic accidents will be reduced. Such accidents have doubled since 1950 and resultant deaths in the Republic amounted to 11,565 in 1954.
A Home for Your Relics
THOUSANDS of relics illustrating every phase in the development of transport in Britain are being gradually collected for eventual exhibition at the proposed National Transport Museum.
The London Transport Executive 'are providing a temporary home for many of them--ranging from bus tickets to models of buses, trams and trolleybuses —at their former tram depot at Norwood, whilst at Reigate and Neasden actual vehicles are kept.
Readers who have in their possession objects with transport associations that they consider may be of interest for preservation and exhibition are advised to contact the curator to the British Transport Commission, Mr. John Scholes, Clive House, Petty France, London, S.W.1.
They Put "Jeeps" Together Again
FINLIKE the characters in the old nursery rhyme, UNLIKE King's men of the Corps of Royal Electrical and Mechanical Engineers have great success in putting things together again, especially if those things are vehicles in the state known as C.K.D. (completely knocked down).
The Corps did much good work of this nature during the war period, when jeeps, and other units, were sent overseas in sections and assembled on arrival. The gangs working together at the task of rebuilding often kept a sort of league table, based on output.
In recent years a number of public demonstrations of R.E.M.E. assembly has been given. A competition between two R.E.M.E. teams (one .nominally representing Lancashire and the Other Yorkshire) was a feature of the recent Northern Command Tattoo which was held at York. By split-second co-operation the winners of the opening-night match built up their vehicle in I min. 40 sec.
Problems of the "L" Plater
AT a recent inquest a coroner suggested the provision of special tracks where steering and braking could be practised by learners until they were expert enough to mingle with traffic.
Possibly, if L-platers could succeed in dodging each other there they would be able to avoid collisions for the remainder of their lives, but where is the space to be found for such practice grounds? One would be needed in every district and it is already difficult enough to find space for the additional and improved roads and vehicle parks that we require.
There are schools where, with the aid of films, actual driving conditions can be approximated, but practice in quiet roads near their homes is the best many learners can manage until their instructors think them fit to be introduced to all the problems of the highways. Good drivers are made, not born, although temperament may play a large part in the time that they take to justify their being classified as such.