DVLA will change its advice on faulty digitach cards, warns FTA
26th April 2012
Page 5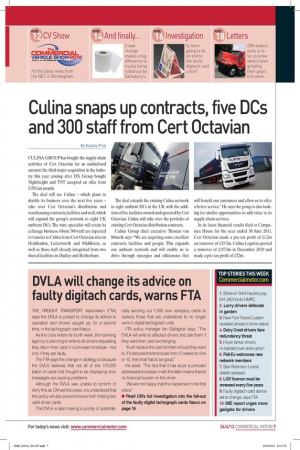 Page 5, 26th April 2012 —
DVLA will change its advice on faulty digitach cards, warns FTA
Close
THE FREiGHT TRANSPORT Association (FTA) says the DVLA is poised to change its advice to operators and drivers caught up, for a second time, in the tachograph card fiasco.
As the crisis enters its fourth week, the licensing agency is planning to write to all drivers requesting they return their card in a pre-paid envelope – but only if they are faulty.
The FTA says the change in strategy is because the DVLA believes that not all of the 175,000 batch of cards first thought to be displaying error messages are causing problems.
Although the DVLA was unable to confirm or deny this as CM went to press, it is understood that this policy will also prevent drivers from holding two valid driver cards.
The DVLA is also making a priority of automati cally sending out 7,000 new company cards to replace those that are understood to no longer work in digital tachograph units.
FTA policy manager ian Gallagher says: "The DVLA will write to affected drivers and ask them if they want their card exchanging.
"it will replace the card for them should they want to. if it reduces the time scale from 13 weeks to nine or 10, then that has to be good." He adds: "The fact that it has stuck a pre-paid addressed envelope in with the letter means there's no financial burden on the driver.
"We are not happy that this happened in the first place." • Read CMBs full investigation into the fall-out of the faulty digital tachograph cards fiasco on page 16.