Culina snaps up contracts, five DCs and 300 staff from Cert Octavian
26th April 2012
Page 5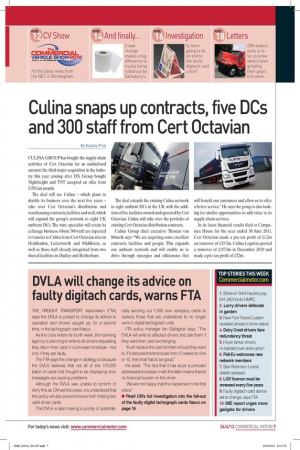 Page 5, 26th April 2012 —
Culina snaps up contracts, five DCs and 300 staff from Cert Octavian
Close
By Hayley Pink
CULINA GROUP has bought the supply chain activities of Cert Octavian for an undisclosed amount: the third major acquisition in the industry this year coming after DX Group bought Nightfreight and TNT accepted an offer from UPS last month.
The deal will see Culina – which plans to double its business over the next five years – take over Cert Octavian's distribution and warehousing contracts, facilities and staff, which will expand the group's network to eight UK ambient DCs. The wine specialist will retain its cellarage business. About 300 staff are expected to transfer to Culina from Cert Octavian sites in Hoddesdon, Lutterworth and Middleton, as well as those staff already integrated from two shared facilities in Dudley and Rotherham. The deal extends the existing Culina network to eight ambient DCs in the UK with the addition of five facilities owned and operated by Cert Octavian. Culina will take over the portfolio of existing Cert Octavian distribution contracts.
Culina Group chief executive Thomas van Mourik says: "We are acquiring some excellent contracts, facilities and people. This expands our ambient network and will enable us to drive through synergies and efficiencies that will benefit our customers and allow us to offer a better service." He says the group is also looking for similar opportunities to add value to its supply chain services.
In its latest financial results filed at Companies House for the year ended 30 June 2011, Cert Octavian made a pre-tax profit of £1.2m on turnover of £35.5m. Culina Logistics posted a turnover of £157.3m in December 2010 and made a pre-tax profit of £7.2m.