EURO-6 STARTS TO PREY ON OPERATORS' MINDS
26th April 2012
Page 41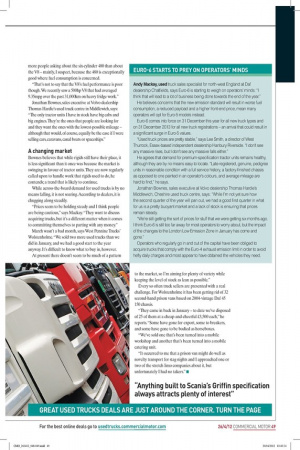 Page 41, 26th April 2012 —
EURO-6 STARTS TO PREY ON OPERATORS' MINDS
Close
Andy Mackay, used truck sales specialist for north-west England at Daf dealership Chatfields, says Euro-6 is starting to weigh on operators' minds: "I think that will lead to a lot of business being done towards the end of the year." He believes concerns that the new emission standard will result in worse fuel consumption, a reduced payload and a higher front-end price, mean many operators will opt for Euro-5 models instead.
Euro-6 comes into force on 31 December this year for all new truck types and on 31 December 2013 for all new truck registrations – an arrival that could result in a significant surge in Euro-5 values.
"Used truck prices are pretty stable," says Lee Smith, a director of West Thurrock, Essex-based independent dealership Hanbury Riverside. "I don't see any massive rises, but I don't see any massive falls either." He agrees that demand for premium-specification tractor units remains healthy, although they are by no means easy to locate. "Late-registered, genuine, pedigree units in reasonable condition with a full service history, a factory-finished chassis as opposed to one painted in an operator's colours, and average mileage are hard to find," he says.
Jonathan Bownes, sales executive at Volvo dealership Thomas Hardie's Middlewich, Cheshire used truck centre, says: "While I'm not yet sure how the second quarter of the year will pan out, we had a good first quarter in what for us is a pretty buoyant market and a lack of stock is ensuring that prices remain steady.
"We're still getting the sort of prices for stuff that we were getting six months ago. I think Euro-6 is still too far away for most operators to worry about, but the impact of the changes to the London Low Emission Zone in January has come and gone." Operators who regularly go in and out of the capital have been obliged to acquire trucks that comply with the Euro-4 exhaust emission limit in order to avoid hefty daily charges and most appear to have obtained the vehicles they need.