Big cab, big engine trucks
26th April 2012
Page 40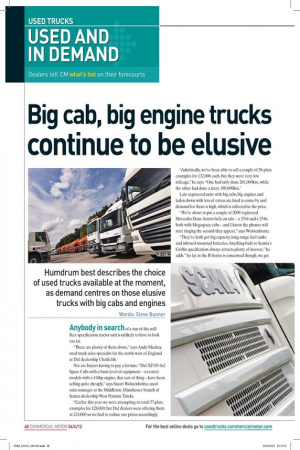 Page 41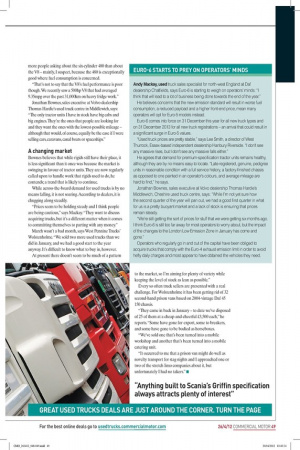 Page 40, 26th April 2012 —
Big cab, big engine trucks
Close
continue to be elusive
Anybody in search of a run-of-the-mill fleet-specification tractor unit is unlikely to have to look too far.
"There are plenty of them about," says Andy Mackay, used truck sales specialist for the north-west of England at Daf dealership Chatfields.
Nor are buyers having to pay a fortune. "Daf XF105 6x2 Space Cabs with a basic level of equipment – ex-rental models with a 410hp engine, that sort of thing – have been selling quite cheaply," says Stuart Wolstenholme, used sales manager at the Middleton, Manchester branch of Scania dealership West Pennine Trucks.
"Earlier this year we were attempting to retail 57-plate examples for £28,000, but Daf dealers were offering them at £24,000 so we had to reduce our prices accordingly. "Admittedly, we've been able to sell a couple of 58-plate examples for £32,000 each, but they were very low mileage," he says. "One had only done 201,000km, while the other had done a mere 188,000km." Late-registered units with big cabs, big engines and laden down with lots of extras are hard to come by and demand for them is high, which is reflected in the price.
"We're about to put a couple of 2009-registered Mercedes-Benz Actros 6x2s on sale – a 2544 and a 2546, both with Megaspace cabs – and I know the phones will start ringing the second they appear," says Wolstenhome.
"They've both got big capacity, long-range fuel tanks and inboard-mounted batteries. Anything built to Scania's Griffin specification always attracts plenty of interest," he adds. "So far as the R-Series is concerned though, we get more people asking about the six-cylinder 480 than about the V8 – mainly, I suspect, because the 480 is exceptionally good where fuel consumption is concerned.
"That's not to say that the V8's fuel performance is poor though. We recently saw a 500hp V8 that had averaged 9.35mpg over the past 31,000km on heavy fridge work." Jonathan Bownes, sales executive at Volvo dealership Thomas Hardie's used truck centre in Middlewich, says: "The only tractor units I have in stock have big cabs and big engines. They're the ones that people are looking for and they want the ones with the lowest-possible mileage – although that would, of course, equally be the case if I were selling cars, caravans, canal boats or spaceships."
A changing market
Bownes believes that while rigids still have their place, it is less significant than it once was because the market is swinging in favour of tractor units. They are now regularly called upon to handle work that rigids used to do, he contends; a trend that is likely to continue.
While across-the-board demand for used trucks is by no means falling, it is not soaring. According to dealers, it is chugging along steadily.
"Prices seem to be holding steady and I think people are being cautious," says Mackay. "They want to discuss acquiring trucks, but it's a different matter when it comes to committing themselves to parting with any money." March wasn't a bad month, says West Pennine Trucks' Wolstenholme. "We sold two more used trucks than we did in January, and we had a good start to the year anyway. It's difficult to know what to buy in, however.
At present there doesn't seem to be much of a pattern to the market, so I'm aiming for plenty of variety while keeping the level of stock as lean as possible." Every so often truck sellers are presented with a real challenge. For Wolstenholme it has been getting rid of 32 second-hand prison vans based on 2004-vintage Daf 45 150 chassis.
"They came in back in January – to date we've disposed of 25 of them at a cheap-and-cheerful £3,500 each," he reports. "Some have gone for export, some to breakers, and some have gone to be bodied as horseboxes.
"We've sold one that's been turned into a mobile workshop and another that's been turned into a mobile catering unit.
"It occurred to me that a prison van might do well as novelty transport for stag nights and I approached one or two of the stretch limo companies about it, but unfortunately I had no takers." ■