Delivering fuel economy?
26th April 2012
Page 32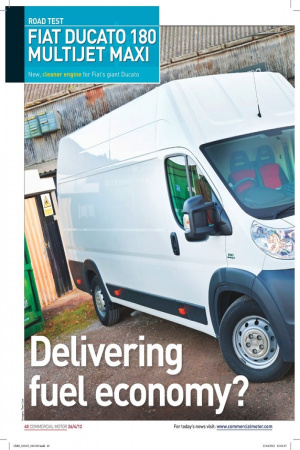 Page 33
Page 34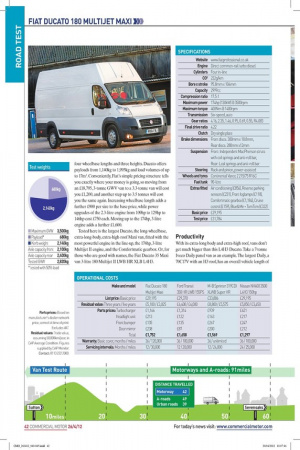 Page 35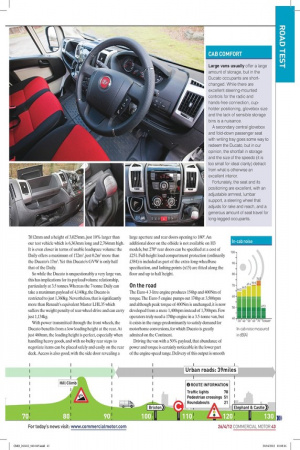 Page 36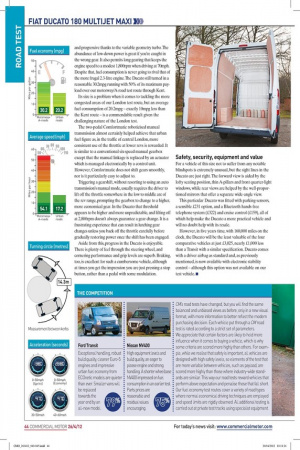 Page 37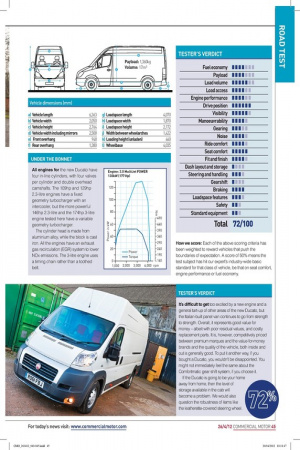 Page 32, 26th April 2012 —
Delivering fuel economy?
Close
FIAT DUCATO 180 MULTIJET MAXI
New, cleaner engine for Fiat's giant Ducato
The new Fiat Ducato is an entirely different machine under the bonnet, but do all the changes made add up to a better drive?
With two near-identical badge-engineered models on the market for each of its commercial vehicles, the uninitiated might find it difficult to see how Fiat vans stand out. Unlike its Citroën and Peugeot rivals, Fiat can call upon the might of the enormously successful Fiat Powertrain Technologies division for engines that differentiate the Fiat versions, giving customers greater choice and often improved economy.
What that means for the customer is that the new Ducato is an entirely different machine under the bonnet, and quite different from the Citroën Relay and Peugeot Boxer, thanks to the use of Fiat's own engines, featuring new Multijet II common-rail fuel-injection technology. Across both the 2.3-litre and 3-litre engines, offering 109hp, 129hp, 146hp and 174hp power outputs, performance has been increased. This is thanks to the higher pressure and faster injection speeds of the new injectors, which not only improve combustion but also reduce noise and lower particulate and NOx emissions.
Other changes include the electric fuel supply pump being located inside the fuel tank. This prolongs the life of the diesel filter and, in the event that fuel runs out completely, enables the driver to restart the supply without emergency assistance. Stop/start technology (£350) is now available on 129hp and 146hp models to further improve economy and emissions, and ESP (electronic stability programme), which features load adaptive control, hill holder, hydraulic brake assistance and anti-slip, can be added to Ducato for the first time. By specifying ESP, and for an additional £100, customers can also equip their vans with the new Traction+ traction control system, which improves handling on difficult terrain.
Away from the dirty parts of the Ducato, changes to the rest of the range are scarce, with darker plastics used throughout the interior and changes to the centre console design that sees space created in the upper section to allow room for the optional TomTom satellite navigation unit. The CD/radio and heating control panel also gets a new piano-black finish. Additional changes include a new contrasting colour combination for the cloth interior, and the introduction of varying interior trims – Standard, Elegant and Techno.
Fiat has kept the configuration of its panel van range the same, with GVWs from 3 tonnes to 4 tonnes as well as four wheelbase lengths and three heights. Ducato offers payloads from 1,140kg to 1,995kg and load volumes of up to 17m3. Conveniently, Fiat's simple pricing structure tells you exactly where your money is going, so moving from an £18,795, 3-tonne GWV van to a 3.3-tonne van will cost you £1,200, and another step up to 3.5 tonnes will cost you the same again. Increasing wheelbase length adds a further £900 per size to the base price, while power upgrades of the 2.3-litre engine from 109hp to 129hp to 146hp cost £750 each. Moving up to the 174hp, 3-litre engine adds a further £1,600.
Tested here is the largest Ducato, the long-wheelbase, extra-long-body, extra-high-roof Maxi van, fitted with the most powerful engine in the line-up, the 174hp, 3-litre Multijet II engine, and the Comfortmatic gearbox. Or, for those who are good with names, the Fiat Ducato 35 Maxi van 3-litre 180 Multijet II LWB HR XLB L4H3.
Productivity
With its extra-long body and extra-high roof, vans don't get much bigger than this L4H3 Ducato. Take a 7-tonne Iveco Daily panel van as an example. The largest Daily, a 70C17V with an H3 roof, has an overall vehicle length of 7,012mm and a height of 3,025mm, just 10% larger than our test vehicle which is 6,363mm long and 2,764mm high. It is even closer in terms of usable loadspace volume: the Daily offers a maximum of 17.2m3, just 0.2m3 more than the Ducato's 17m3. Yet this Ducato's GVW is only half that of the Daily.
So while the Ducato is unquestionably a very large van, this has implications for its payload/volume relationship, particularly at 3.5 tonnes. Whereas the 7-tonne Daily can take a maximum payload of 4,140kg, the Ducato is restricted to just 1,360kg. Nevertheless, that is significantly more than Renault's equivalent Master LHL35 which suffers the weight penalty of rear-wheel-drive and can carry just 1,134kg.
With power transmitted through the front wheels, the Ducato benefits from a low loading height at the rear. At just 460mm, the loading height is perfect, especially when handling heavy goods, and with no bulky rear steps to negotiate items can be placed safely and easily on the rear deck. Access is also good, with the side door revealing a large aperture and rear doors opening to 180°. An additional door on the offside is not available on H3 models, but 270° rear doors can be specified at a cost of £251. Full-height load compartment protection (ordinarily £384) is included as part of the extra-long-wheelbase specification, and lashing points (x15) are fitted along the floor and up to half height.
On the road
The Euro-4 3-litre engine produces 154hp and 400Nm of torque. The Euro-5 engine pumps out 174hp at 3,500rpm and although peak torque of 400Nm is unchanged, it is now developed from a mere 1,400rpm instead of 1,700rpm. Few operators truly need a 174hp engine in a 3.5-tonne van, but it exists in the range predominantly to satisfy demand for motorhome conversions, for which Ducato is greatly admired on the Continent.
Driving the van with a 50% payload, that abundance of power and torque is certainly noticeable in the lower part of the engine-speed range. Delivery of this output is smooth and progressive thanks to the variable geometry turbo. The abundance of low-down power is great if you're caught in the wrong gear. It also permits long gearing that keeps the engine speed to a modest 1,800rpm when driving at 70mph. Despite that, fuel consumption is never going to rival that of the more frugal 2.3-litre engine. The Ducato still turned in a reasonable 30.2mpg running with 50% of its maximum payload over our motorway/A-road test route through Kent.
Its size is a problem when it comes to tackling the more congested areas of our London test route, but an average fuel consumption of 20.2mpg – exactly 10mpg less than the Kent route – is a commendable result given the challenging nature of the London test.
The two-pedal Comfortmatic roboticised manual transmission almost certainly helped achieve that urban fuel figure as, in the traffic of central London, more consistent use of the throttle at lower revs is rewarded. It is similar to a conventional six-speed manual gearbox except that the manual linkage is replaced by an actuator which is managed electronically by a control unit. However, Comfortmatic does not shift gears smoothly, nor is it particularly easy to adjust to.
Triggering a gearshift, without resorting to using an auto transmission's manual mode, usually requires the driver to lift off the throttle somewhere in the low to middle arc of the rev range, prompting the gearbox to change to a higher, more economical gear. In the Ducato that threshold appears to be higher and more unpredictable, and lifting off at 2,800rpm doesn't always guarantee a gear change. It is a frustrating experience that can result in lurching gear changes unless you back off the throttle carefully before gradually restoring power once the shift has been engaged.
Aside from this, progress in the Ducato is enjoyable. There is plenty of feel through the steering wheel, and cornering performance and grip levels are superb. Braking, too, is excellent for such a cumbersome vehicle, although at times you get the impression you are just pressing a stop button, rather than a pedal with some modulation.
Safety, security, equipment and value
For a vehicle of this size not to suffer from any notable blindspots is extremely unusual, but the sight lines in the Ducato are just right. The forward view is aided by the lofty seating position, thin A-pillars and front quarter-light windows, while rear views are helped by the well-proportioned mirrors that offer a separate wide-angle view.
This particular Ducato was fitted with parking sensors, a sensible £231 option, and a Bluetooth hands-free telephone system (£322) and cruise control (£159), all of which help make the Ducato a more practical vehicle and will no doubt help with its resale.
However, in five years time, with 160,000 miles on the clock, the Ducato will be the least valuable of the four comparative vehicles at just £3,025, nearly £1,000 less than a Transit with a similar specification. Ducato comes with a driver airbag as standard and, as previously mentioned, is now available with electronic stability control – although this option was not available on our test vehicle. ■ UNDER THE BONNET All engines for the new Ducato have four in-line cylinders, with four valves per cylinder and double overhead camshafts. The 109hp and 129hp 2.3-litre engines have a fixed geometry turbocharger with an intercooler, but the more powerful 146hp 2.3-litre and the 174hp 3-litre engine tested here have a variable geometry turbocharger.
The cylinder head is made from aluminium alloy, while the block is cast iron. All the engines have an exhaust gas recirculation (EGR) system to lower NOx emissions. The 3-litre engine uses a timing chain rather than a toothed belt.
THE COMPETITION Ford Transit Exceptional handling, robust build quality, cleaner Euro-5 engines and impressive urban fuel economy from ECOnetic models are quieter than ever. Smaller vans will be replaced towards the year end by an all-new model. Nissan NV400 High equipment levels and build quality, an eager to please engine and strong handling. A shorter wheelbase NV400 impressed on fuel consumption in an earlier test. Parts prices are reasonable and residual values encouraging.
CM's road tests have changed, but you will find the same balanced and unbiased views as before, only in a new visual format, with more information to better reflect the modern purchasing decision. Each vehicle put through a CM road test is rated according to a strict set of parameters. We appreciate that certain factors are likely to hold more influence when it comes to buying a vehicle, which is why some criteria are scored more highly than others. For example, while we realise that safety is important, all vehicles are designed with high safety levels, so elements of the test that are more variable between vehicles, such as payload, are scored more highly than those where industry-wide standards are similar. This way our road tests reward vehicles that perform above expectation and penalise those that fall short. Our fuel economy test routes cover a variety of road types where normal economical driving techniques are employed and speed limits are rigidly observed. All additional testing is carried out at private test tracks using specialist equipment. TESTER'S VERDICT It's difficult to get too excited by a new engine and a general tart-up of other areas of the new Ducato, but the Italian-built panel van continues to go from strength to strength. Overall, it represents good value for money – albeit with poor residual values, and costly replacement parts. It is, however, competitively priced between premium marques and the value-for-money brands and the quality of the vehicle, both inside and out is generally good. To put it another way, if you bought a Ducato, you wouldn't be disappointed. You might not immediately feel the same about the Comfortmatic gear shift system, if you choose it.
If the Ducato is going to be your home away from home, then the level of storage available in the cab will become a problem. We would also question the robustness of items like the leatherette-covered steering wheel.