CELEBRATING FODEN'S S80/S83
26th April 2012
Page 28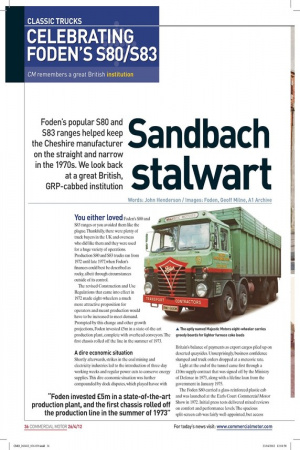 Page 30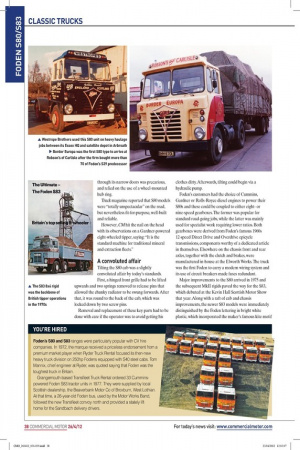 Page 31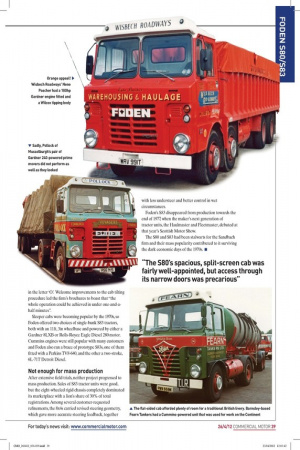 Page 28, 26th April 2012 —
CELEBRATING FODEN'S S80/S83
Close
Keywords :
Sandbach
,
Transport
,
Erf
,
Man Se
,
Foden
,
Tractor
,
Truck
,
Technology
,
Land Transport
,
Edwin Foden, Sons & Co.
CM remembers a great British institution
Foden's popular S80 and S83 ranges helped keep the Cheshire manufacturer on the straight and narrow in the 1970s. We look back at a great British, GRP-cabbed institution
Sandbach
stalwart
Words: John Henderson / Images: Foden, Geoff Milne, A1 Archive You either loved Foden's S80 and S83 ranges or you avoided them like the plague. Thankfully, there were plenty of truck buyers in the UK and overseas who did like them and they were used for a huge variety of operations. Production S80 and S83 trucks ran from 1972 until late 1977, when Foden's finances could best be described as rocky, albeit through circumstances outside of its control.
The revised Construction and Use Regulations that came into effect in 1972 made eight-wheelers a much more attractive proposition for operators and meant production would have to be increased to meet demand.
Prompted by this change and other growth projections, Foden invested £5m in a state-of-the-art production plant, complete with overhead conveyors. The first chassis roll ed off the line in the summer of 1973.
A dire economic situation
Shortly afterwards, strikes in the coal mining and electricity industries led to the introduction of three-day working weeks and regular power cuts to conserve energy supplies. This dire economic situation was further compounded by dock disputes, which played havoc with ▲ The aptly named Majestic Motors eight-wheeler carries greedy boards for lighter furnace coke loads Britain's balance of payments as export cargos piled up on deserted quaysides. Unsurprisingly, business confidence slumped and truck orders dropped at a meteoric rate.
Light at the end of the tunnel came first through a £10m supply contract that was signed off by the Ministry of Defence in 1973, along with a lifeline loan from the government in January 1975.
The Foden S80 carried a glass-reinforced plastic cab and was launched at the Earls Court Commercial Motor Show in 1972. Initial press tests delivered mixed reviews on comfort and performance levels. The spacious split-screen cab was fairly well-appointed, but access through its narrow doors was precarious, and relied on the use of a wheel-mounted hub ring.
Truck magazine reported that S80 models were "totally unspectacular" on the road, but nevertheless fit-for-purpose, well-built and reliable.
However, CM hit the nail on the head with its observations on a Gardner-powered eight-wheeled tipper, saying: "It is the standard machine for traditional mineral and extraction fleets."
A convoluted affair
Tilting the S80 cab was a slightly convoluted affair by today's standards. First, a hinged front grille had to be lifted upwards and two springs removed to release pins that allowed the chunky radiator to be swung forwards. After that, it was round to the back of the cab, which was locked down by two screw pins.
Removal and replacement of these key parts had to be done with care if the operator was to avoid getting his clothes dirty. Afterwards, tilting could begin via a hydraulic pump.
Foden's customers had the choice of Cummins, Gardner or Rolls-Royce diesel engines to power their S80s and these could be coupled to either eightor nine-speed gearboxes. The former was popular for standard road-going jobs, while the latter was mainly used for specialist work requiring lower ratios. Both gearboxes were derived from Foden's famous 1960s 12-speed Direct Drive and Overdrive epicycle transmissions, components worthy of a dedicated article in themselves. Elsewhere on the chassis front and rear axles, together with the clutch and brakes, were manufactured in-house at the Elworth Works. The truck was the first Foden to carry a modern wiring system and its use of circuit breakers made fuses redundant.
Major improvements to the S80 arrived in 1975 and the subsequent MkII rigids paved the way for the S83, which debuted at the Kevin Hall Scottish Motor Show that year. Along with a raft of cab and chassis improvements, the newer S83 models were immediately distinguished by the Foden lettering in bright white plastic, which incorporated the maker's famous kite motif in the letter 'O'. Welcome improvements to the cab tilting procedure led the firm's brochures to boast that "the whole operation could be achieved in under one-and-ahalf minutes".
Sleeper cabs were becoming popular by the 1970s, so Foden offered two choices of single-bunk S83 tractors, both with an 11ft, 3in wheelbase and powered by either a Gardner 8LXB or Rolls-Royce Eagle Diesel 280 motor. Cummins engines were still popular with many customers and Foden also ran a brace of prototype S83s, one of them fitted with a Perkins TV8-640, and the other a two-stroke, 6L-71T Detroit Diesel.
Not enough for mass production
After extensive field trials, neither project progressed to mass production. Sales of S83 tractor units were good, but the eight-wheeled rigid chassis completely dominated its marketplace with a lion's share of 30% of total registrations. Among several customer-requested refinements, the 8x4s carried revised steering geometry, which gave more accurate steering feedback, together with less understeer and better control in wet circumstances.
Foden's S83 disappeared from production towards the end of 1977, when the maker's next generation of tractor units, the Haulmaster and Fleetmaster, debuted at that year's Scottish Motor Show.
The S80 and S83 had been stalwarts for the Sandbach firm and their mass popularity contributed to it surviving the dark economic days of the 1970s. n