Heavy-duty
26th April 2012
Page 24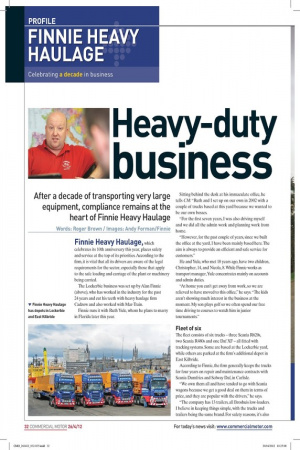 Page 26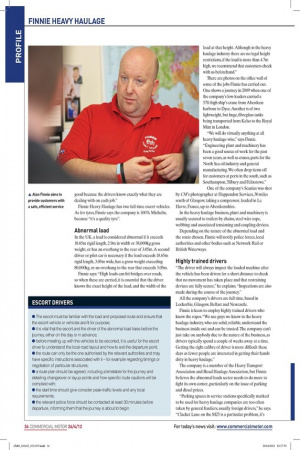 Page 27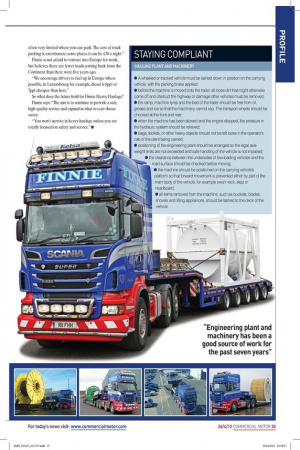 Page 24, 26th April 2012 —
Heavy-duty
Close
business
After a decade of transporting very large equipment, compliance remains at the heart of Finnie Heavy Haulage
Words: Roger Brown / Images: Andy Forman/Finnie Finnie Heavy Haulage, which celebrates its 10th anniversary this year, places safety and service at the top of its priorities. According to the firm, it is vital that all its drivers are aware of the legal requirements for the sector, especially those that apply to the safe loading and carriage of the plant or machinery being carried.
The Lockerbie business was set up by Alan Finnie (above), who has worked in the industry for the past 24 years and cut his teeth with heavy haulage firm Cadzow and also worked with Mar-Train.
Finnie runs it with Ruth Yule, whom he plans to marry in Florida later this year. Sitting behind the desk at his immaculate office, he tells CM: "Ruth and I set up on our own in 2002 with a couple of trucks based at this yard because we wanted to be our own bosses.
"For the first seven years, I was also driving myself and we did all the admin work and planning work from home.
"However, for the past couple of years, since we built the office at the yard, I have been mainly based here. The aim is always to provide an efficient and safe service for customers." He and Yule, who met 18 years ago, have two children, Christopher, 14, and Nicola, 8. While Finnie works as transport manager, Yule concentrates mainly on accounts and admin duties.
"At home you can't get away from work, so we are relieved to have moved to this office," he says. "The kids aren't showing much interest in the business at the moment. My son plays golf so we often spend our free time driving to courses to watch him in junior tournaments."
Fleet of six
The fleet consists of six trucks – three Scania R620s, two Scania R480s and one Daf XF – all fitted with tracking systems. Some are based at the Lockerbie yard, while others are parked at the firm's additional depot in East Kilbride.
According to Finnie, the firm generally keeps the trucks for four years on repair and maintenance contracts with Scania Dumfries and Solway Daf, in Carlisle.
"We own them all and have tended to go with Scania wagons because we get a good deal on them in terms of price, and they are popular with the drivers," he says.
"The company has 13 trailers, all Broshuis low-loaders. I believe in keeping things simple, with the trucks and trailers being the same brand. For safety reasons, it's also good because the drivers know exactly what they are dealing with on each job." Finnie Heavy Haulage has two full-time escort vehicles. As for tyres, Finnie says the company is 100% Michelin, because "it's a quality tyre".
Abnormal load
In the LTK, a load is considered abnormal if it exceeds 18.65m rigid length, 2.9m in width or 38,000kg gross weight, or has an overhang to the rear of 3.05m. A second driver or pilot car is necessary if the load exceeds 18.65m rigid length, 3.05m wide, has a gross weight exceeding 80,000kg, or an overhang to the rear that exceeds 3.05m.
Finnie says: "High loads can hit bridges over roads, so when these are carried, it is essential that the driver knows the exact height of the load, and the width of the load at that height. Although in the heavy haulage industry there are no legal height restrictions, if the load is more than 4.7m high, we recommend that customers check with us beforehand." There are photos on the office wall of some of the jobs Finnie has carried out. One shows a journey in 2009 when one of the company's low-loaders carried a 57ft-high ship's crane from Aberdeen harbour to Dyce. Another is of two lightweight, but huge, fibreglass tanks being transported from Kelso to the Royal Mint in London.
"We will do virtually anything at all heavy haulage-wise," says Finnie. "Engineering plant and machinery has been a good source of work for the past seven years, as well as cranes, parts for the North Sea oil industry and general manufacturing. We often drop items off for customers at ports in the south, such as Southampton, Tilbury and Felixstowe." One of the company's Scanias was shot by CM's photographer at Happendon Services, 30 miles south of Glasgow, taking a compressor, loaded in Le Havre, France, up to Aberdeenshire.
In the heavy haulage business, plant and machinery is usually secured to trailers by chains, steel wire rope, webbing and associated tensioning and coupling devices.
Depending on the nature of the abnormal load and the route chosen, Finnie will notify police forces, local authorities and other bodies such as Network Rail or British Waterways.
Highly trained drivers
"The driver will always inspect the loaded machine after the vehicle has been driven for a short distance to check that no movement has taken place and that restraining devices are fully secure," he explains. "Inspections are also made during the course of the journey." All the company's drivers are full time, based in Lockerbie, Glasgow, Belfast and Newcastle.
Finnie is keen to employ highly trained drivers who know the ropes. "We use guys we know in the heavy haulage industry, who are solid, reliable, understand the business inside out and can be trusted. The company can't just take on anybody due to the nature of the business, as drivers typically spend a couple of weeks away at a time. Getting the right calibre of driver is more difficult these days as fewer people are interested in getting their hands dirty in heavy haulage." The company is a member of the Heavy Transport Association and Road Haulage Association, but Finnie believes the abnormal loads sector needs to do more to fight its own corner, particularly on the issue of parking and diesel prices.
"Parking spaces in service stations specifically marked to be used for heavy haulage companies are too often taken by general hauliers, usually foreign drivers," he says. "Clacket Lane on the M25 is a particular problem, it's often very limited where you can park. The cost of truck parking is extortionate; some places it can be £20 a night." Finnie is not afraid to venture into Europe for work, but believes there are fewer loads coming back from the Continent than there were five years ago.
"We encourage drivers to fuel up in Europe where possible, in Luxembourg for example, diesel is 6ppl or 7ppl cheaper than here." So what does the future hold for Finnie Heavy Haulage?
Finnie says: "The aim is to continue to provide a safe, high-quality service and expand in what is a cut-throat sector.
"You won't survive in heavy haulage unless you are totally focused on safety and service." ■