East meets West
26th April 2012
Page 2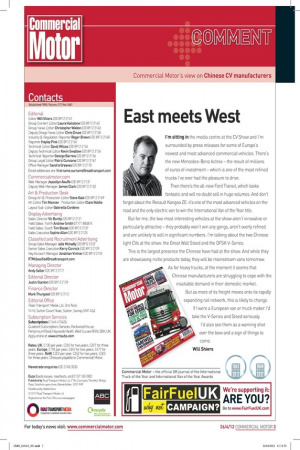 Page 2, 26th April 2012 —
East meets West
Close
I'm sitting in the media centre at the CV Show and I'm surrounded by press releases for some of Europe's newest and most advanced commercial vehicles. There's the new Mercedes-Benz Actros – the result of millions of euros of investment – which is one of the most refined trucks I've ever had the pleasure to drive.
Then there's the all-new Ford Transit, which looks fantastic and will no doubt sell in huge volumes. And don't forget about the Renault Kangoo ZE: it's one of the most advanced vehicles on the road and the only electric van to win the International Van of the Year title.
But for me, the two most interesting vehicles at the show aren't innovative or particularly attractive – they probably won't win any gongs, aren't overly refined and are unlikely to sell in significant numbers. I'm talking about the two Chinese light CVs at the show: the Great Wall Steed and the DFSK V-Series.
This is the largest presence the Chinese have had at the show. And while they are showcasing niche products today, they will be mainstream vans tomorrow. As for heavy trucks, at the moment it seems that Chinese manufacturers are struggling to cope with the insatiable demand in their domestic market.
But as more of its freight moves onto its rapidly expanding rail network, this is likely to change. If I were a European van or truck maker I'd take the V-Series and Steed seriously.
I'd also see them as a warning shot over the bow and a sign of things to come.
Will Shiers