Welsh Tyre Recycling Services
26th April 2012
Page 16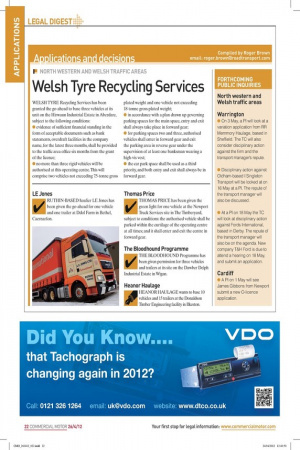 Page 16, 26th April 2012 —
Welsh Tyre Recycling Services
Close
WELSH TYRE Recycling Services has been granted the go-ahead to base three vehicles at its unit on the Hirwaun Industrial Estate in Aberdare, subject to the following conditions: ● evidence of sufficient financial standing in the form of acceptable documents such as bank statements, overdraft facilities in the company name, for the latest three months, shall be provided to the traffic area office six months from the grant of the licence; ● no more than three rigid vehicles will be authorised at this operating centre. This will comprise two vehicles not exceeding 7.5-tonne gross plated weight and one vehicle not exceeding 18-tonne gross plated weight; ● in accordance with a plan drawn up governing parking spaces for the main space, entry and exit shall always take place in forward gear; ● for parking spaces two and three, authorised vehicles shall enter in forward gear and exit the parking area in reverse gear under the supervision of at least one banksman wearing a high-vis vest; ● the car park space shall be used as a third priority, and both entry and exit shall always be in forward gear.
LE Jones
RUTHIN-BASED haulier LE Jones has been given the go-ahead for one vehicle and one trailer at Ddol Farm in Bethel, Caernarfon.
Thomas Price
THOMAS PRICE has been given the green light for one vehicle at the Newport Truck Services site in The Timberyard, subject to conditions: the authorised vehicle shall be parked within the curtilage of the operating centre at all times; and it shall enter and exit the centre in forward gear.
The Bloodhound Programme
THE BLOODHOUND Programme has been given permission for three vehicles and trailers at its site on the Dawber Delph Industrial Estate in Wigan.
Heanor Haulage
HEANOR HAULAGE wants to base 10 vehicles and 15 trailers at the Donaldson Timber Engineering facility in Ilkeston.