£8k fine after worker dragged under truck
26th April 2012
Page 14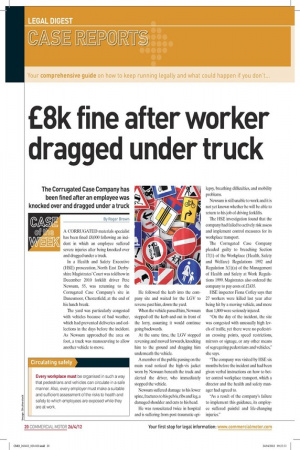 Page 14, 26th April 2012 —
£8k fine after worker dragged under truck
Close
Keywords :
Technology
,
United Kingdom
,
United Kingdom Labour Law
,
Trucks
,
Forklift Truck
,
Materials Handling
,
Health And Safety Executive
,
Workplace (health, Safety And Welfare) Regulations
,
Truck
,
Business
,
Disaster / Accident
,
Law / Crime
,
Labor
The Corrugated Case Company has been fined after an employee was knocked over and dragged under a truck
By Roger Brown
A CORRUGATED materials specialist has been fined £8,000 following an incident in which an employee suffered severe injuries after being knocked over and dragged under a truck.
In a Health and Safety Executive (HSE) prosecution, North East Derbyshire Magistrates' Court was told how in December 2010 forklift driver Pete Newsum, 55, was returning to the Corrugated Case Company's site in Danesmoor, Chesterfield, at the end of his lunch break.
The yard was particularly congested with vehicles because of bad weather, which had prevented deliveries and collections in the days before the incident. As Newsum approached the area on foot, a truck was manoeuvring to allow another vehicle to move. He followed the kerb into the company site and waited for the LGV to reverse past him, down the yard.
When the vehicle passed him, Newsum stepped off the kerb and out in front of the lorry, assuming it would continue going backwards.
At the same time, the LGV stopped reversing and moved forwards, knocking him to the ground and dragging him underneath the vehicle.
A member of the public passing on the main road noticed the high-vis jacket worn by Newsum beneath the truck and alerted the driver, who immediately stopped the vehicle.
Newsum suffered damage to his lower spine, fractures to his pelvis, ribs and leg, a damaged shoulder and cuts to his head.
He was resuscitated twice in hospital and is suffering from post-traumatic epi lepsy, breathing difficulties, and mobility problems.
Newsum is still unable to work and it is not yet known whether he will be able to return to his job of driving forklifts.
The HSE investigation found that the company had failed to actively risk assess and implement control measures for its workplace transport.
The Corrugated Case Company pleaded guilty to breaching Section 17(1) of the Workplace (Health, Safety and Welfare) Regulations 1992 and Regulation 3(1)(a) of the Management of Health and Safety at Work Regulations 1999. Magistrates also ordered the company to pay costs of £7,435.
HSE inspector Fiona Coffey says that 27 workers were killed last year after being hit by a moving vehicle, and more than 1,800 were seriously injured.
"On the day of the incident, the site was congested with unusually high levels of traffic, yet there were no pedestrian crossing points, speed restrictions, mirrors or signage, or any other means of segregating pedestrians and vehicles," she says.
"The company was visited by HSE six months before the incident and had been given verbal instructions on how to better control workplace transport, which a director and the health and safety manager had agreed to.
"As a result of the company's failure to implement this guidance, its employee suffered painful and life-changing injuries."
Circulating safely
Every workplace must be organised in such a way that pedestrians and vehicles can circulate in a safe manner. Also, every employer must make a suitable and sufficient assessment of the risks to health and safety to which employees are exposed while they are at work.