Let nature take its course
26th April 2012
Page 13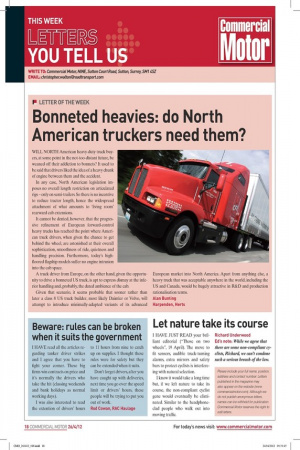 Page 13, 26th April 2012 —
Let nature take its course
Close
I HAVE JUST READ your brilliant editorial ("Those on two wheels", 19 April). The move to fit sensors, audible truck-turning alarms, extra mirrors and safety bars to protect cyclists is interfereing with natural selection.
I know it would take a long time but, if we left nature to take its course, the non-compliant cyclist gene would eventually be eliminated. Similar to the headphoneclad people who walk out into moving traffic. Richard Underwood
Ed's note: While we agree that there are some non-compliant cyclists, Richard, we can't condone such a serious breach of the law.
Please include your ful name, position, address and contact number. Letters published in the magazine may also appear on the website (www. commercialmotor.com). Although we do not publish anonymous letters, names can be withheld for publication. Commercial Motor reserves the right to edit letters.