House of cards
26th April 2012
Page 11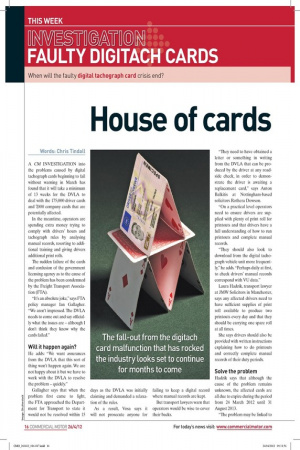 Page 12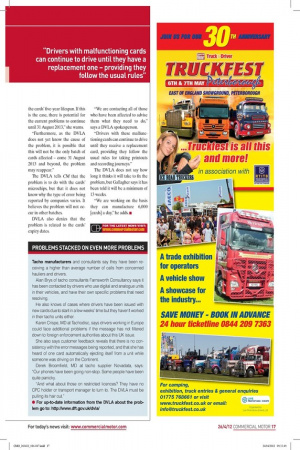 Page 11, 26th April 2012 —
House of cards
Close
Words: Chris Tindall
A CM INVESTIGATION into the problems caused by digital tachograph cards beginning to fail without warning in March has found that it will take a minimum of 13 weeks for the DVLA to deal with the 175,000 driver cards and 7,000 company cards that are potentially affected.
In the meantime, operators are spending extra money trying to comply with drivers' hours and tachograph rules by analysing manual records, resorting to additional training and giving drivers additional print rolls.
The sudden failure of the cards and confusion of the government licensing agency as to the cause of the problem has been condemned by the Freight Transport Association (FTA).
"It's an absolute joke," says FTA policy manager Ian Gallagher. "We aren't impressed. The DVLA needs to come out and say officially what the issues are – although I don't think they know why the cards failed."
Will it happen again?
He adds: "We want assurances from the DVLA that this sort of thing won't happen again. We are not happy about it but we have to work with the DVLA to resolve the problem – quickly." Gallagher says that when the problem first came to light, the FTA approached the Department for Transport to state it would not be resolved within 15 days as the DVLA was initially claiming and demanded a relaxation of the rules.
As a result, Vosa says it will not prosecute anyone for failing to keep a digital record where manual records are kept.
But transport lawyers warn that operators would be wise to cover their backs. "They need to have obtained a letter or something in writing from the DVLA that can be produced by the driver at any roadside check, in order to demonstrate the driver is awaiting a replacement card," says Anton Balkitis at Nottingham-based solicitors Rothera Dowson.
"On a practical level operators need to ensure drivers are supplied with plenty of print roll for printouts and that drivers have a full understanding of how to run printouts and complete manual records.
"They should also look to download from the digital tachograph vehicle unit more frequently," he adds. "Perhaps daily at first, to check drivers' manual records correspond with VU data." Laura Hadzik, transport lawyer at JMW Solicitors in Manchester, says any affected drivers need to have sufficient supplies of print roll available to produce two printouts every day and that they should be carrying one spare roll at all times.
She says drivers should also be provided with written instructions explaining how to do printouts and correctly complete manual records of their duty periods.
Solve the problem
Hadzik says that although the cause of the problem remains unknown, the affected cards are all due to expire during the period from 24 March 2012 until 31 August 2013.
"The problem may be linked to the cards' five-year lifespan. If this is the case, there is potential for the current problems to continue until 31 August 2013," she warns.
"Furthermore, as the DVLA does not yet know the cause of the problem, it is possible that this will not be the only batch of cards affected – come 31 August 2013 and beyond, the problem may reappear." The DVLA tells CM that the problem is to do with the cards' microchips, but that it does not know why the type of error being reported by companies varies. It believes the problem will not occur in other batches.
DVLA also denies that the problem is related to the cards' expiry dates. "We are contacting all of those who have been affected to advise them what they need to do," says a DVLA spokesperson.
"Drivers with these malfunctioning cards can continue to drive until they receive a replacement card, providing they follow the usual rules for taking printouts and recording journeys." The DVLA does not say how long it thinks it will take to fix the problem, but Gallagher says it has been told it will be a minimum of 13 weeks.
"We are working on the basis they can manufacture 6,000 [cards] a day," he adds. n