More gadgets could prevent cyclist deaths
26th April 2012
Page 10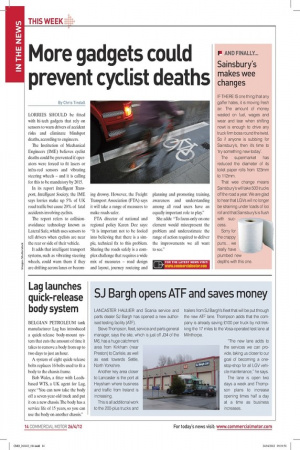 Page 10, 26th April 2012 —
More gadgets could prevent cyclist deaths
Close
By Chris Tindall
LORRIES SHOULD be fitted with hi-tech gadgets that rely on sensors to warn drivers of accident risks and eliminate blindspot deaths, according to engineers.
The Institution of Mechanical Engineers (IME) believes cyclist deaths could be prevented if operators were forced to fit lasers or infra-red sensors and vibrating steering wheels – and it is calling for this to be mandatory by 2015.
In its report Intelligent Transport, Intelligent Society, the IME says lorries make up 5% of UK road traffic but cause 20% of fatal accidents involving cyclists.
The report refers to collisionavoidance technology known as Lateral Safe, which uses sensors to tell drivers when cyclists are near the rear or side of their vehicle.
It adds that intelligent transport systems, such as vibrating steering wheels, could warn them if they are drifting across lanes or becom ing drowsy. However, the Freight Transport Association (FTA) says it will take a range of measures to make roads safer.
FTA director of national and regional policy Karen Dee says: "It is important not to be fooled into believing that there is a simple, technical fix to this problem. Sharing the roads safely is a complex challenge that requires a wide mix of measures – road design and layout, journey routeing and planning and promoting training, awareness and understanding among all road users have an equally important role to play." She adds: "To focus only on one element would misrepresent the problem and underestimate the range of action required to deliver the improvements we all want to see."