Super Hippos on Pipeline Project
26th April 1957
Page 55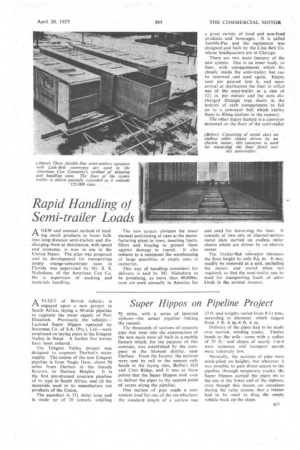 Page 55, 26th April 1957 —
Super Hippos on Pipeline Project
Close
A. FLEET of British vehicles is ri engaged upon a new project in South Africa, laying a 90-mile pipeline to augment the water supply of Port Elizabeth_ Previously the vehicles— Leyland Super Hippos operated by Socornan Co. of S.A. (Pty.), Ltd.—were employed on laying pipes in the Umgeni Valley in Natal. A further five lorries have been ordered.
The Umgeni Valley project was designed to augment Durban's water supply, The course of the new Umgeni pipeline is from Nagle Dam, about 50 miles from Durban in the Inanda Reserve, to Durban Heights, It is the first pre-stressed concrete pipeline of its type in South Africa, and all the materials used in its manufacture are products of the Union.
The aqueduct is 331 miles long and is made up of 20 tunnels. totalling
91 miles, with a series of inverted siphons—the actual pipeline -linking the tunnels.
The thousands of sections of concrete pipe that went into the construction of the new main were all built in a mobile factory which, for the purpose of this contract, was established By the company in the Mobeni district, near Durban, From the factory, the sections were sent by rail to the nearest railheads to the laying sites, Bothals Hill and Cato Ridge, and it was at these points that the Super Hippos took over to deliver the pipes to the nearest point of access along the pipeline.
One section of pipe rnade a convenient load for one of tile six-wheelers; the standard •leneth of a section was 23 ft. and weights varied from g-11 tons, according to diameter, which ranged from 3 ft. 6 in.-4 ft. 6 in.
Delivery of the pipes had to be made over narrow, winding tracks. Twelve bends to the. mile—some with a radius of 35 ft.—and slopes of nearly I-in-4 were common and transport speeds were relatively low.
Normally, the sections of pipe were stock-piled on heights, but wherever it was possible to gain direct access to the pipeline through temporary tracks, the Super Hippos carried the pipes on to the site at the lower end of the siphons, even though this meant, on occasions during the rainy season. that a tractor had to be used to dragthe empty vehicle back up the slope.