Crossing Their Bridges
26th April 1957
Page 49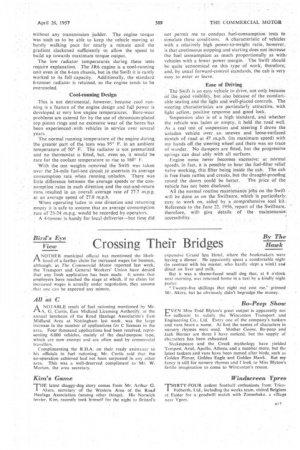 Page 49, 26th April 1957 —
Crossing Their Bridges
Close
ANOTHER municipal official has mentioned the likelihood of a further claim for increased wages for busmen, although, as The Commercial Motor reported last week, the Transport and General Workers' Union have denied that any fresh application has been made. It seems that employers have reached the stage at which. if no claim for increased wages is actually under negotiation, they assume that one can be expected any minute.
All at C
A NOTABLE result of fuel rationing mentioned hy Mr. PA-A. G. Curtis, East Midland Licensing Authotify. at the annual luncheon of the Road Haulage Association's East Midland Area at Nottingham last week, was the large increase in the number of applications for C licences in the area. Four thousand applications had been received, repre7 sent* 6,000 vehicles, mainly of the dual-purpose type, which are now exempt and are often used by commercial travellers.
Complimenting the R.H.A. on their ready assistance to his officials in fuel rationing, Mr. Curtis said that the co-operation achieved had not been surpassed in any other area. This was a well-deserved compliment to–Mr. W. Morton, the area secretary.
Kim's Game
THE latest shaggy-dog story comes from Mr. Arthur G. Akers, •secretary of the Western Area of the Road Haulage Association (among other things), His Norwich terrier, Kim, recently took himself for the night to Bristol's eXpensive Grand Spa Hotel, where the bookmakers were having a dinner. He apparently spent a comfortable night (in contrast with his master, who hardly slept a wink) and dined on liver and milk.
But it was a shame-faced small dog that, at 8 o'clock next morning, was returned home in a taxi by a kindly night porter.
"Twenty-five shillings that night out cost me," grinned Mr. Akers, but he obviously didn't begrudge the money.
Bo-Peep Show
VEN Miss Enid Blyton's great output is apparently not sufficient to satisfy the Wincanton Transport and Engineering Co.. Ltd. Every one of the company's tankers and vans bears a name. At first the names of characters in nursery rhymes were used. Mother Goose, Bo-peep and Jack Horner are three I have noticed, but the supply of characters has been exhausted.
Shakespeare and the Greek mythology have yielded Tempest, Ariel, Apollo. Athena and a number more, but the latest tankers and vans have been named after birds, such as Golden Plover, Golden Eagle and Golden Hawk. But my fancy is still for nursery rhymes and I look to Miss Blyton's fertile imagination to come to Wincanton's rescue,
Windscreen Ypres
TITHIRTY-FOUR ardent football enthusiasts from Tricofolberth, ltd., including the works team. visited Belgium at Easter for a. goodwill match with Zonneheke. a village near Ypres,