New Equipment, Processes and Publications
26th April 1957
Page 45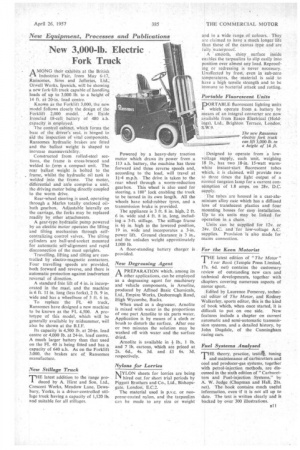 Page 45, 26th April 1957 —
New Equipment, Processes and Publications
Close
New 3,000-lb. Electric Fork Truck
A MONG their exhibits at the British 171. Industries Fair, from May 6-17, .Ransomes, Sims and Jeff cries, Ltd., Orwell Works, Ipswich, will be showing a new fork-lift truck capable of handling loads of up to 3,000,1b. to a height of 14 ft. at 20-in. load centre.
Known as the Forklift 3,000, the new model follows closely the design of the Forklift 2,000 model, An EXide Ironclad 48-cell battery of 480 a.h. capacity is employed.
The control cabinet, which forms the base of the driver's seat, is hinged to aid the inspection of vital components. Ransomes hydraulic brakes are fitted and the ballast weight is shaped to increase manoeuvrabil i ty.
Constructed from rolled-steel sections, the frame is cross-braced and welded to form a compact unit. The rear ballast weight is bolted to the frame, whilst the hydraulic oil tank is welded into the frame. The motor, differential and axle comprise a unit, the driving motor being directly coupled to the worm drive.
Rear-wheel steering.is used, operating through a Marks totally enclosed oilbath gearbox. Adjustable laterally on the carriage, the forks may be replaced readily by other attachments.
A gear-type hydraulic pump powered by an electric motor operates the lifting and tilting mechanism through .selfcentralizing control valves., The tilting cylinders are ball-and-socket mounted for automatic self-alignment and rapid disconnection of the mast uprights.
Travelling, lifting and tilting are controlled by electro-magrietic contactors. Four travelling speeds are provided, both forward and reverse, and there is automatic protection against inadvertent reversal of direction.
A standard free lift of 4 in. is incorporated in the mast, and the machine is 6 ft. 11 in. long (less forks), 2 ft. 9 in. wide and has a wheelbase of 3 ft. 6 in.
To replace the FL 40 truck, Ransomes have designed a new machine to be known as the FL 4,500. A prototype of this model, which will be generally available by midsummer, will also be shown at the B.LF.
Its capacity is 4,500 lb. at 20-in. load centre or 4,000 lb. at 24-in. load centre. A much larger battery than that used on the FL 40 is being fitted and has a capacity of 640 a.h. As on the Forklift 3,000 the brakes are of Ransomes manufacture.
New Stillage Truck THE latest addition to the range produced by A. Hirst and Son, Ltd., Crescent Works, Meadow Lane, Dewsbury, Yorks, is a driver-controlled stillage truck having a capacity of 1,120 lb, and suitable for all stillages. Powered by a heavy-duty traction motor which draws itspower from .a 113 a.h. battery, the machine has three forward and three reverse speeds and, according to the load, will travel at 11-4 m.p.h. The drive is taken to the rear wheel through a worm-reduction gearbox. This wheel is also used for steering, a ta0. lock enabling the truck to be turned in its own length. All the wheels have solid-rubber tyres, and a transmission brake is provided.
The appliance is 3 ft. 8 in. high, 2 ft. 6 in. wide and .4 ft. 8 in. long, including -a 3-ft. stillage. The stillage frame is 64 in. high in the lowered pcisition, 19 in. wide and incorporates a 3-in. power lift. Ground clearance is 3 in., and the unladen weight approkimately 1,000 lb.
A floor-standing battery charger is provided.
New Degreasing Agent A PREPARATION which, among its rA other applications, can be employed as a degreasing agent for machinery and vehicle components, is Arnolite, produced by Affined Basic Chemicals, Ltd., Empire Works, Desborough Road, High Wycombe, Bucks.
When used as a degreaser, Arnolite is mixed with water in the proportions of one part Arnolite to six parts water. Application is by means of a cloth or brush to disturb the surface. After one or two minutes the solution may be washed off with water and the surface dried.
Arnolite is available in 4 Ile., 1 lb. and 7 lb. cartons, which are priced at 2s. 6d., 4s. 3d, and £1 6s, 3d. respectively.
Nylons for Lorries MYLON sheets for lorries are being 1 hired out for short trial periods by Piggott Brothers and Co., Ltd., Bishopsgate, London, E.C.2.
The material used is p.v.c. or neoprene-coated nylon, and the tarpaulins can be made to any size or weight and in a wide range .of colours. They are claimed to have a much longer life than those of the canvas type and are fully waterproof.
A smboth, shiny . surface inside enables the tarpaulins to slip easily into position over almost any load. Reproofilia or redressing is never 'necessary. Unaffected by frost, even in sub-zero temperatures, the material is said . to have a high tensile Strength and to be immune to bacterial attack and rotting.
Portable Fluorescent Units PORTABLE fluorescent lighting units which operate from a battery by means of an integral converter are now available from Easco Electrical (Holdings), Ltd., Brighton Terrace, London. S.W.9.
Designed to operate from a lowvoltage supply, each unit, weighing 18 lb., has two 18-in. 15-watt warmwhite instant-start fluorescent tubes which, it is claimed, will provide two to three times the light output of a normal tungsten lamp for a current constimption of 1.8 amps. on 28v. D.C. supply.
• The tubes are housed in a cast-aluminium alloy cage which has a diffused lens of translucent plastics and four mounting bosses for easy installation. Up to six units may be linked for operation in a chain.
Units can be supplied for 12v. or 24v. D.C. and for low-voltage A.C. supplies. Provision is also made for mains connection.
For the Keen Motorist THE latest edition of "The Motor" Year Book (Temple Press Limited, 17s. 6d. net) contains the customary review of outstanding new cars and technical developments, together with chapters covering numerous aspects of
motor sport.
Edited by Laurence Pomeroy, technical editor of The Motor, and Rodney Walkerley, sports editor, this is the kind of book which, when once started, it is
difficult to put on one side. New features include a chapter on current automatic and semi-automatic transmission systems, and a detailed history, by John Dugdaie, of the Cunningham racing cars,
Fuel Systems Analysed
THE theory, practice, testi", tuning and maintenance of carburetters and coal and producer-gas systems, together with petrol-injection methods, are discussed in the sixth edition of "Carburettors and Fuel-injection Systems," by A. W. Judge (Chapman and Hall, 21s. net). The book contains much useful information. even -if it is not all up to date. The text is written clearly and is backed by over 300 illustrations.