'Man. Jailed for 'Having Photograph of Licence
26th April 1957
Page 38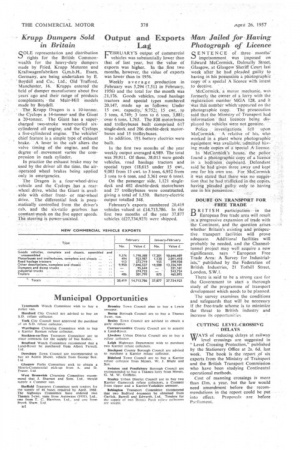 Page 38, 26th April 1957 —
'Man. Jailed for 'Having Photograph of Licence
Close
CENTENCE of. three months' 4--/ imprisonment was imposed on Edward McCormick, Dalinally Street, Glasgow, at Glasgow Sheriff Court last week after he had pleaded. guilty to having in his pcissesSion a photographic copy of a special A licence with intent to deceive.
McCormick: a motor mechanic was formerly the owner of a Jerry with the registration number tvtqA 128, and it 'Was this number which -appeared on thz photographic copy. The prosecution said that the Ministry of Transport had information that licencesbeing displayed by vehicles Were not genuine.
Police ' investigations fell upon McCormick. A relative of his, who worked in a plant where photographic_ equip/tient Was available,--adinitted having made copies of a Special A licence.
fn McCormick's house, the police found a photographic copy of a lice me in a bedroom cupboard, Defend nit said he had given three away and kept one for his own use. •For McCormick it was stated that there was no suggestion that he had trafficked in the copies, havingPleaded 'guilty only to having one in his possession: DOUBT ON TRANSPORT FOR -FREE TRADE
D RITISH participation. in the 1-0 European free trade area will result a progressive expansion of trade with the Continent, and the question ariseswhether Britain's existing and prospective transport facilities will prove adequate. Additional facilities will probably be needed, and the Channeltunnel project may well acquire a new significance, says "European Free Trade Area: A Survey for Industrialists," published by the Federation of British Industries. 21 Tothill Street. London, S.W. L
There is said to be a strong case for the Government to start a thorough study of the programme of transport development which needs to be planned.
The survey examines the conditions and safeguards that will be necessary if the free-trade scheme is to minimize the threat to British industry and increase its opportunilies.
CUTTING LEVEL-CROSSING DELAYS
WAYS of reducing delays at railway level crossings are suggested in "Level Crossing Protection," published by the Stationery Office at 2s. 6d. last week. The book is the report ,of six experts from the Ministry of Transport and the British Transport Commission who have been studying Continental operational methods.
Cost of manning crossings is more than flm. a year. but the law would need amendment before the recommendations in the report could be put into effect. Proposals are before Pa rPameil t,