Krupp Dumpers Sold in Britain
26th April 1957
Page 38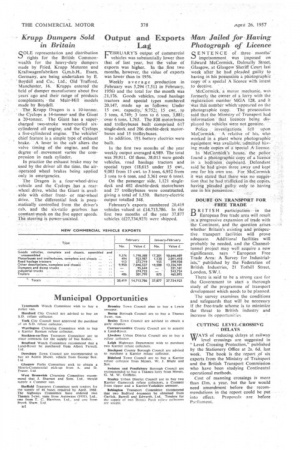 Page 38, 26th April 1957 —
Krupp Dumpers Sold in Britain
Close
COLE representation and distribution rights for the British Commonwealth for the heavy-duty dumpers made by Fried. Krupp IVIotoren und • Kraftwagenfabriken Qm.b.H., Essen, Germany, are being undertaken by E. ` Boydell and Co.'. Ltd., Old Trafford, Manchester, 16. Krupps entered the field of dumper manufacture about five years ago and their range of products • coniplennents the Muir-Hill 'models made by BoyleII.
The.Krupp Dragon is a 10-tonner,
the Cyclops a 14-tonnerand the Giant a 20-tOnner. The Giant has a supercharged two-stroke • water-cooled sixcylindered oil engine; and the Cyclops five-cylindered engine. The vehicle? chief feature is a simple type of exhaust hrake. A lever in the cab alters the valve timing of the engine, and the . degree of . movement variesthe compression in each cylinder.
In practice the exhaust brake may be used by the driver all the time, the airoperated wheel brakes being applied only in emergencies.
• The Dragon is a four-wheel-drive , vehicle and the Cyclops .has .a. rearwheel, drive, whilst the Giant is. available with either frontor rear-wheel .drive. The differential lock is pnettAnatically controlled. from the driver's cab, and the six-ratio gearbox has constant-mesh:op the .five upper speeds. .The steering is power-assisted.