£68,000 More for Stockport and £40,000 for S.H.M.D. Board
26th April 1957
Page 36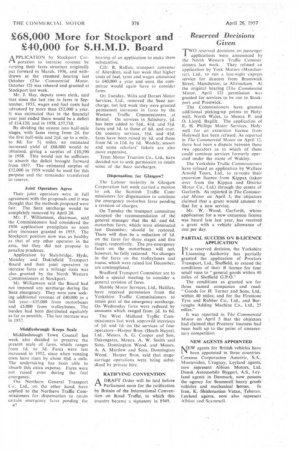 Page 36, 26th April 1957 —
£68,000 More for Stockport and £40,000 for S.H.M.D. Board
Close
A PPLICATION by Stockport Cur 11 to increase revenue by varying their fares structure originally put forward in March, 1956, and withdrawn at the resumed hearing last October (The Commercial Motor, October 12) was reheard and granted at Stockport last week.
Mr. J. Hay, deputy town clerk, said that since the last rise in fares in September, 1955, wages and fuel costs had advanced by more than £52.000 a year. It was estimated that in the financial year just ended there would be a deficit of 114.120, and in 1958, £57,710.
By dividing the system into half-mile stages, with fares rising from 2d. for the first half-mile and 20. up to a mile, to 8d. for 5-} miles, an estimated increased yield of £68,000 would be obtained, giving a surplus of £10,290 in 1958. This would not be sufficient to absorb the deficit brought forward from 1957. The estimated surplus of £12,000 in 1959 would be used for this purpose and the remainder transferred to reserve.
Joint Operators Agree Their joint operators were in full agreement with the proposals and it was thought that the methods proposed were fair. The Suez surcharge would be completely removed by April 20.
Mr. F. Williamson, chairman, said the Commissioners had considered the 1956 application precipitate so soon after increases granted in 1955. The Stockport position now was as healthy as that of any other operator in the area, but they did not propose to penalize prudence.
Application by Stalybridge, Hyde, Mossley and Dukinfield Transport Board and their joint operators to increase fares on a mileage basis was also granted by the North Western Commissioners at Stockport.
Mr. Williamson said the Board had not imposed any surcharge during the Suez emergency. They were now seeking additional revenue of £40,000 in a full year-05,000 from motorbuses and £5,000 from trolleybuses. The burden had been distributed equitably as far as possible. The last increase was in 1952.
Middlesbrough Keeps Scale
Middlesbrough Town Council last week also decided to preserve the present scale of fares, which ranges from Id. to 3d. Fares were last increased in 1952, since when running costs have risen by about 4+d. a mile. The undertaking has been able to absorb this extra expense. Fares were not raised even during the fuel emergency.
The Northern General Transport Co.. Ltd., on the other hand, have applied to the Northern Traffic Commissioners for dispensation to retain certain emergency fares pending the
hearing of an application to make them substantive.
Cl1r. R. Raffan, transport convener of Aberdeen, said last week that higher costs of fuel, tyres and wages amounted to £40,000 a year and soon the committee would again have to consider fares.
On Tuesday, Wilts and Dorset Motor Services, Ltd., removed the Suez surcharge, but last week they were granted permanent increases in fares by the Western Traffic Commissioners at Bristol. On services in Salisbury, fd. has been added to 31(1., 44d. and 5-1-d. fares and Id. to those of 6d. and over. On country services, 3+d. and 41d. fares have been raised by id. and those from 5d. to 11d. by Id. Weekly, season and some scholars' tickets are also more expensive.
Trent Motor Traction Co., Ltd., have decided not to seek permission to retain some of the Suez surcharges.
Dispensation for Glasgow?
The Labour majority in Glasgow Corporation last week carried a motion to ask the Scottish Traffic COM' missioners for dispensation to continue the emergency motorbus fares pending a revision of charges.
On Tuesday the transport committee accepted the recommendation of the general manager that the 4d: and 6d. motorbus fares, which were eliminated last December, should be restored. There will thus be a reduction of Id. on the fares for three stages and five stages, respectively. The pre-emergency fares on the motorbuses will not, however, be fully restored. No changes in the fares on the trolleybuses and trams, which were raised last December, are contemplated.
Bradford Transport Committee are to hold a special meeting to consider a general revision of fares.
Hebble Motor Services, Ltd., Halifax, have received permission from the Yorkshire Traffic Commissioners to retain part of the emergency surcharge. On Wednesday fares were reduced by amounts which ranged from to 6d.
The West Midland Traffic Commissioners last week approval increases of Id. and Id. on the services of four operators—Harper Bros. (Heath Hayes). Ltd., Messrs. A. G. Cooper and Son, Oakengates. Messrs. A. W. Smith and Sons, Donnington Wood, and Messrs. A. A. 1V1drtlew and Sons, Donnington Wood. Harper Bros. said that stagecarriage operations were being subsidized by private hire.
• RATIFYING CONVENTION
ikDRAFT Order will be laid before Parliament soon for the ratification by Britain of the International Convention on Road Traffic, to which this country became a signatory in 1949.
Reserved Decisions Given
TWO reserved decisions on passenger applications were announced by the Nrirth Western Traffic Commis sioners last week. They refused an application by York Motors (Manchester), Ltd., to run a late-night 'express service for dancers from Brunswick Street, Manchester, to Altrincham. At the original hearing (The Commercial Motor, April 12) permission was granted for services to be run to Stockport and Prestwick.
The Commissioners have granted additional picking-up points in Holywell, North Wales, to Messrs. P. and 0. Lloyd. Bagillt. The application of E. H. Phillips Motor Services. Holywell for an excursion licence from Holywell has been refused. As reported in The Commercial Motor on April 12, there had been a dispute between these two operators as to which of them could continue services formerly operated under the name of Wakley.
The Yorkshire Traffic Commissioners have refused an applicaticn by Wallace Arnold Tours, Ltd., to re-route their excursion licence from Kippax, (taken aver from the Kippax and District Motor Co., Ltd.) through the centre of Garforth. As reported in The-Commercial Motbr on April 5, the -objectors claimed that a grant would amount to that for a new service: Mr. W. . Wood, Garforth, whose application for a new excursion licence was heard late last year, has received a grant with a vehicle allowance of one per day.
PARTIAL SUCCESS ON B-LICENCE APPLICATION
I N a reserved decision, the Yorkshire Licensing Authority has partially granted, the application of Proctors Transport, Ltd., Sheffield, to extend the conditions of their B licence for four small vans to general goods within 40 miles of Sheffield G.P.O."
The conditions as granted are for three named companies and read: "Goods for H. Turner and Sons, Ltd., within 40 miles; and for the Firestone Tyre and Rubber Co., Ltd., and Burroughs Adding Machine Co., Ltd., 25 miles."
It was reported in The Commercial Motor on April 5 that the objectors had claimed that Proctors' business had been built up to the point of unnecessary competition.
NEW AGENTS APPOINTED
NEW agents for British vehicles have been appointed in three. countries. Coransa Corporacion 'Autotriz, S.A., Montevideo, Uruguay, Leyland agents, now represent Albion Motors; Ltd. DanskAutomobile Byggeri, A.S., Leyland agents in Denmark, now possess the agency for Scarnmell heavy goods
vehicles and mechanical horses. In Iran, K. Shishmanian Vatan, Teheran. Leyland agents, now also • represent Albion and Scammell.