Unions Consider Bus Companies' Reply
26th April 1957
Page 35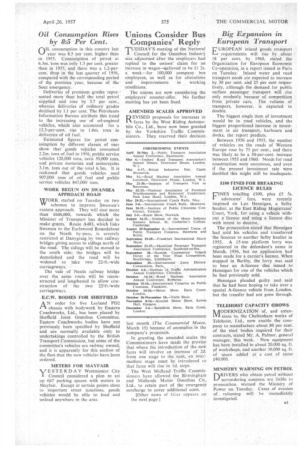 Page 35, 26th April 1957 —
Unions Consider Bus Companies' Reply
Close
TUESDAY'S meeting of the National 1 Council for the Omnibus Industry was adjourned after the employers had replied to the unions' claim for an increase in wagestelieved to be Li 2s. a week—for 100,000 company bus employees, as well as for alterations and improvements in working conditions.
The unions are now considering the employers' counter-offer. No further meeting has yet been fixed.
AMENDED SCALES APPROVED D EVISED proposals for increases in fares by the West Riding Automobile Co" Ltd., have now been granted by the Yorkshire Traffic Commissioners. They reserved their decision last month (The Commercial Motor, March 15) because of anomalies in the company's proposals.
In granting the amended scales the Commissioners -have made the proviso that where the introduction of the new fares will involve an increase' of 2d. from one stage to the next, an intermediate stage must be introduced 50 that fares will rise in Id. steps.
The West Midland-Traffic Commissioners have allowed, the Birmingham and Midlands Motor Omnibus Co., Ltd., to retain part of the emergency surcharge to cover additional costs. [Other news of fares appears on the next pagel