_Two-thirds Off Emergency Surcharge
26th April 1957
Page 34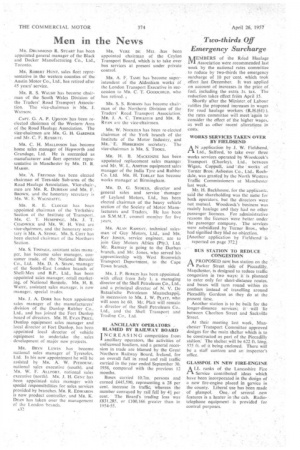 Page 34, 26th April 1957 —
_Two-thirds Off Emergency Surcharge
Close
MEMBERS of the Road Haulage Association were recommended last week by the national rates committee to reduce by two-thirds the emergency surcharge of 10 per cent, which took effect last December. It was applied on account of increases in the price of fuel, including the extra Is. tax. The reduction takes effect from April 15.
Shortly after the Minister, of Labour ratifies the proposed increases in wages for road haulage workers (R.H.(61) ), the rates committee will meet 'again to consider the effect of the higher wages. as well as other recent alterations in costs.
WORKS SERVICES TAKEN OVER BY FIELDSEND
A'application by J. W. Fieldsend, Ltd., Salford, to take over three works services operated by Woodcock's Transport (Chorley), Ltd., between Wigan, Coppull, and • the • works of Turner Bros. Asbestos Co., Ltd.. Rochdale, was granted by the North Western "[raffle Commissioners at Manchester last week.
Mr. H. Backhouse, for the applicante, said the shareholding was the same for both operators, but the directors were not mutual. Woodcock's business was mainly haulage and they had no other passenger licences. For administrative reasons the licences were better under the passenger company. The services were subsidized by Turner Bros., who had signified they hhd no objection.
[Another application by Fieldsencl is reported on page 3721
BUS STATION TO REDUCE CONGESTION APROPOSED new, bus station on the Parker Street side of Piccadilly, Manchester, is designed to reduce traffic congestion in two ways: it is planned to cater only for short-distance routes, and buses will turn round within its confines instead of travelling around Piccadilly Gardens as they do at the present time.
Another station is to be built for the longer-distance services; it will lie between Chorlton Street and Sackvillc Street.
At their meeting last week, Manchester Transport Committee approved designs for the main shelter which is to be constructed as part of the Piccadilly station,' The shelter will be 622 ft. long, 575 ft. of it being enclosed. There will be a staff canteen and an inspector's office.
GLASSPOL IN NEW FIRE-ENGINE
ALL ranks of the Lancashire Fire Service contributed ideas which have been incorporated in the design of a new fire-engine placed in lervice in the county. Liberal use has been made of glasspol. One of several new features is a heater in the cab. Radiotelephone equipment is provided for control purposes.