Passing Comments
26th April 1957
Page 30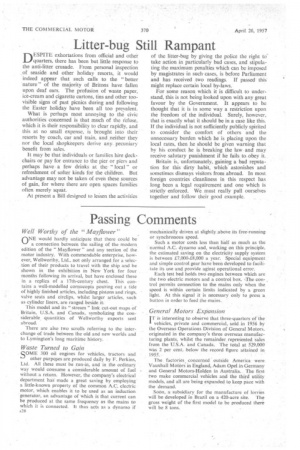 Page 31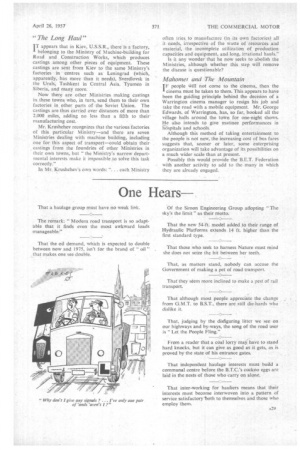 Page 30, 26th April 1957 —
Passing Comments
Close
Well Worthy of the "Mayflower"
nNE would hardly anticipate that there could be
a connection between the sailing of the modern edition of the " Mayflower " and any section of the motor industry. With commendable enterprise, however, Wellworthy, Ltd., not only arranged for a selection of their products to travel with the ship and be shown in the exhibition in New York for four months following its arrival, but have enclosed these in a replica of a 17th-century chest. This contains a well-modelled cornucopia pouring out a tide of highly finished articles, including pistons and rings, valve seats and circlips, whilst larger articles, such as cylinder liners,, are ranged beside it.
This model and its " stream " link cut-out maps of Britain, U.S.A. and Canada. symbolizing the considerable quantities of Wellworthy exports sent abroad.
There are also two scrolls referring to the interchange of trade between the old and new worlds and to Lymington's long maritithe history.
Waste Turned to Gain
gomE 300 oil engines for vehicles, tractors and `--) other purposes are produced daily by F. Perkins, Ltd. All these must be run-in, and in the ordinary way would consume a considerable amount of fuel without a return. However, the company's electrical department has made a great saving by employing a little-known property of the common A.C. electric motor, which enables it to be used as an induction generator, an advantage of which is that current can be produced at the same frequency as the mains to which it is connected. 11. thus acts as a dynamo if
mechanically driven at slightly above its free-running or synchronous speed.
Such a motor costs less than half as much as the normal A.C. dynamo and, working on this principle, the estimated saving on the electricity supply system is between 17,000-18,000 a year. Special equipment and simple control gear have been developed to facilitate its use and provide aginst operational error.
Each test bed holds two engines between which are the two electric motors and a control box. -The control permits connection to the mains only when the speed is within certain limits indicated by a green light. At this signal it is necessary only to press a button in order to feed the mains.
General Motors Expansion
1T is interesting to observe that three-quarters of the vehicles, private and commercial, sold in 1956 by the Overseas Operations Division of General Motors, originated in the company's three overseas manufacturing plants, whilst the remainder represented sales from the U.S.A. and Canada. The total at 529.000 was 2 per cent. below the record figure attained in 1955.
The factories, concerned outside America were Vauxhall Motors in England, Adam Opel in Germany and General Motors-Holden in Australia. The first two make commercial vehicles and the third utility models, and all are being expanded to keep pace with the demand.
Soon, a subsidiary for the manufacture of lorries will be developed in Brazil on a 420-acre site. The gross weight of the first model to be produced there will be 8 tons.
"The Long Haul"
IT appears that in Kiev, U.S.S.R., there is a factory, I belonging to the Ministry of Machine-building for Road and Construction Works, which produces castings among other pieces of equipment. These castings are sent from Kiev to the same Ministry's factories in centres such as Leningrad (which, apparently, has more than it needs), Sverdlovsk in the Urals, Tashkent in Central Asia, Tyumen in Siberia, and many more.
Now there are other Ministries making castings in these towns who, in turn, send them to their own factories in other parts of the Soviet Union. The castings are thus carried over distances of more than 2000, miles, adding no less than a fifth to their' manufacturing cost.
Mr. Krushchev recognizes that the various factories of this particular Ministry—and there are seven Ministries dealing with machine building, including one for this aspect of transport—could obtain their castings from the foundries of other Ministries in their own towns, but " the Ministry's narrow departmental interests make it impossible to solve this task correctly."
In Mr. Krushchev's own words: ". .. each Ministry often tries to manufacture (in its own factories) all it needs, irrespective of the waste of resources and material, the incomplete utilization of production capacities and equipment, and long, irrational hauls."
Is it any wonder that he now seeks to abolish the Ministries, although whether this step will remove the disease is questionable?
Mahamet and The Mountain
IF people iill not come to the cinema, then the I cinema must be taken to them. This appears to have been the guiding principle behind the decision of a Warrington cinema manager to resign his job and take the road with a mobile equipment. Mr. George Edwards, of Warrington, has, so far, booked all the village halls around the town for one-night shows. He also intends to give matinee performances in hospitals and schools.
Although this method of taking entertainment to the people is not new, the increasing cost of bus fares suggests that, sooner or later, some enterprising organization will take advantage of its possibilities on a much wider scale than at present.
Possibly this would provide the B.E.T. Federation with another activity to add to the many in which they are already engaged.