Litter-bug Still Rampant
26th April 1957
Page 30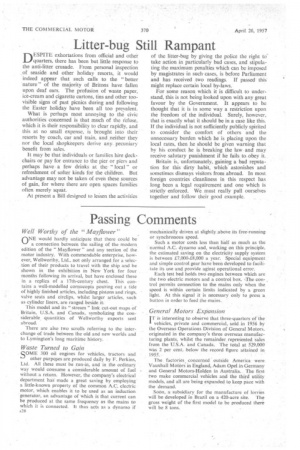 Page 30, 26th April 1957 —
Litter-bug Still Rampant
Close
DESPITE exhortations from official and other quarters, there has been but little response to the anti-litter crusade. From personal inspection of seaside and other holiday resorts, it would indeed appear that such calls to the "better nature" of the majority of Britons have fallen upon deaf ears. The profusion of waste paper, ice-cream and cigarette cartons, tins and other toovisible signs of past picnics during and following the Easter holiday have been all too prevalent.
What is perhaps most annoying to the civic authorities concerned is that much of the refuse, which it is their responsibility to clear rapidly, and this at no small expense, is brought into their resorts by coach, car and train, and _neither they nor the local shopkeepers derive any pecuniary benefit from sales.
It may be that individuals or families hire deckchairs or pay for entrance to the pier or piers and perhaps have a few drinks at the " local " or refreshment of softer kinds for the children. But advantage may not be taken of even these sources of gain, for where there are open spaces families often merely squat.
At present a Bill designed to lessen the activities of the litter-bug by giving the police the right td take action in particularly bad eases, and stipulating the maximum penalties which can be imposed by magistrates in such cases, is before Parliament and has received two readings. If passed this might replace certain local by-laws.
For some reason which it is difficult to understand, this is not being looked upon with any great favour by the Government. It appears to be thought that it is in some way a restriction upon the freedom of the individual. Surely, however, that is exactly what it should be in a case like this. If the individual is not sufficiently publicly spirited to consider the comfort of others and the unnecessary burden which he is placing upon the local rates, then he should be given warning that by his conduct he is breaking the law and may receive salutary punishment if he fails to obey it.
Britain is, unfortunately, gaining a bad reputation for this dirty habit, which astonishes and sometimes dismays visitors from abroad. In most foreign countries cleanliness in this respect has long been a legal requirement and one which is strictly enforced. We must really pull ourselves together and follow their good example.