WHERE TO FIND HAULAGE BUSINESS
26th April 1932
Page 75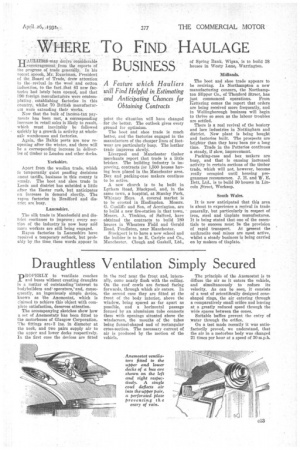 Page 75, 26th April 1932 —
WHERE TO FIND HAULAGE BUSINESS
Close
J'ATTLIERS,may.derive considerable encouragement from the reports of the progress of trade generally. In his recent. Spee4h, Mr. Itunciman, President of the Board of Trade, drew attention the -revival inthe wool and cotton industries, to the fact that 43 new factories had lately been opened, and that :100 foreign manufacturers Were contemplating establishing factories in this country,. whilst -70 British manufacturers were extending their -Works.
Now that the bulk of income-tax payments has been met, a corresponding increasein retail sales is likely to result, which must inevitably be followed quickly by a growth in activity at wholesale warehouses and factories.
Again, the Baltic ports are now reopening after the winter, and there will be a corresponding increase in deliveries of timber to London and other docks.
Yorkshire.
Apart from the woollen trade, which is temporarily quiet pending decisions anent tariffs, business in this county is steady. The boot and shoe trade in Leeds and district has subsided a little after the Easter rush, but anticipates tin inerease in demand shortly. The rayon factories in Bradford and district are busy.
Lancashire.
The silk trade in Macclesfield and district continues to improve; every section of the industry ;is now busy arid more workers are still being engaged.
Rayon factories in Lancashire have received a temporary setback, but probably by the time, these words appear in print the situation will have changed for the better. The outlook gives every ground for optimism.
The boot and shoe trade is much better, and the factories engaged in the manufacture of the cheaper lines of foot-wear are particularly busy. The leather trade improves slowly.
Liverpool and Manchester timber merchants report that trade is a little brisker. The building industry is improving, contracts for 1,500 houses having been placed in the Manchester area. Box and packing-case makers continue to be active.
A new church is to be built in. Lytham Road, Blackpool, and, in the same town, a hospital, at Stanley Park, Whinney Heys. A covered market is to be erected in Haslingden. Messrs. G. Cunliffe and Son, of Accrington, are to build a new fire-station in that town, Messrs. A. Timkins, of Salford, have obtained the contracts to build 180 houses in Wheaters Field and Gerald Road, Pendleton, near Manchester.
Stockport is to have a new school and the builder is to be R. Carlyle and Co., Manchester. Clough and Gaskell, Ltd.,
of Spring Bank, Wigan, is to build 38 houses in West), Lane, Warrington.
Midlands.
The boat and shoe trade appears to be reviving. In Northampton a new manufacturing concern, the Northampton Slipper Co., of Thenford Street, has just commenced operations. From Rettering comes the report that orders are being received more frequently, and in Wellingborough business will begin to thrive so soon as the labour troubles are settled.
There is a re-al revival of the hosiery and lace industries in Nottingham and district. New plant is being bought and factories built. The prospects are brighter than they have been for a long time. Trade in the Potteries continues a steady, if slow, improvement.
Packing-case and box makers arc. busy, and that is causing increased activity in certain sections of the timber trade, which will not, however, become really occupied until housing programmes recommence. 5. H. and W. E. Lett, Ltd., is to build 50 houses in Lincoln Street, Worksop.
South Wales.
It 'is now anticipated that this area is about to experience a revival in trade generally, but particularly in respect of iron, steel and tinplate manufactures. It is being stated that one of the essentials to success must be the provision of rapid transport. At present the anthracite coal mines are most active, whilst a steady business is being carried on by makers of tinplate.