Draughtless Ventilation Simply Secured
26th April 1932
Page 75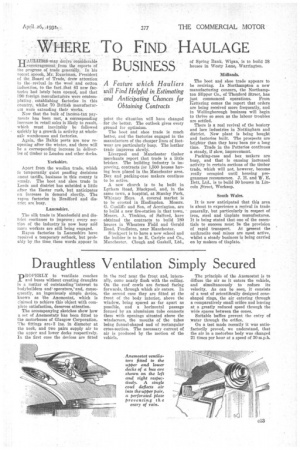 Page 75, 26th April 1932 —
Draughtless Ventilation Simply Secured
Close
PROPERLY to ventilate coaches and buses without creating draughts is a matter of outstanding 'interest to bodybuilders and operators,•ancl, consequently, an ingeniously simple device, known as the Anemostat, which is claimed to achieve this object with complete satisfaction, deserves attention.
The accompanying sketches show how a set of Anemostats has been fitted to the motorbuses of Glasgow Corporation. The fittings are±3 ins, in diameter at the neck, and two pairs supply air to the upper and lower decks respectively. In the first case the devices are fitted in the roof near the front and, internally, come nearly flush with the ceiling. On the roof cowls are formed facing forwards, through which air enters. In the second case they are fitted at the front of the body interior, above the window, being spaced as far apart as possible, and a horizontal passage formed by an aluminium tube connects them with openings situated above the windscreen, the mouths of the tubes being funnel-shaped and of rectangular cress-section. The necessary current of air is produced by the motion of the vehicle. The principle of the Anemostat is to diffuse the air as it enters the vehicle, and simultaneously to reduce its velocity. As can be seen, it consists of a nest of scientifically designed coneshaped rings, the air entering through a comparatively small orifice and leaving at a greatly reduced speed through the wide spaces between the cones.
Suitable baffles prevent the entry of water through the orifice.
On a test made recently it was satisfactorily proved, we understand, that the air in a motorbus body was changed 21 times per hour at a speed of 30 m.p.h.