IMPORTANT HAPPENINGS OF THE WEEK
26th April 1932
Page 68
Page 69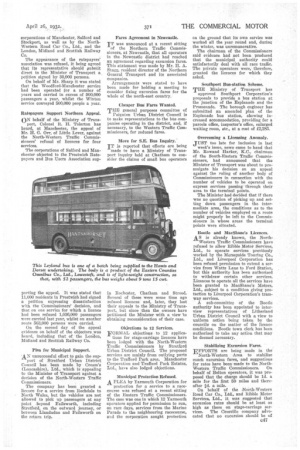 Page 70
Page 68, 26th April 1932 —
IMPORTANT HAPPENINGS OF THE WEEK
Close
Decision on First Wage Inquiry.
WHAT is said to be the first decision in the matter of wages and conditions of employment has been given by the Industrial Court, under the Road Traffic Act. It was alleged by the Transport and General Workers Union that Redcar Services, Ltd., of 'Timbridge Wells, was not complying with Section 93 of the Act, which governs the wages of public service vehicle operatives.
The findings of the Industrial Court are, it appears, to the effeet that the ordinary wages of drivers are not in contravention of the provisions of the fair-wages resolution. As regards the wages of conductors of 21 years of age and over, as well as the hours and the rates of pay for overtime, Sundays, Good Fridays, Bank Holidays and rest days of both drivers and conductors. Redcar Services, Ltd., is considered not to be complying with the provisions of the fair-wages resolution.
The official statement is not worded as clearly as it might he.
Stern Warning to Operators.
LAST Tuesday Sir John Maxwell, chairman of the Northern Traffic Commissioners, issued a stern warning to operators, when sitting at Newcastle. Ile said that unless operators, as a body, fully realized their responsibilities to the public and to each other, to carry out the law, the Commissioners would be forced to institute prosecution. He also referred to the habit of certain competing proprietors of lodging accusations and counter-accusations against each other in connection with alleged breaches of licence conditions.
New Big Bus Station.
THE Potteries Electric Traction Co., Ltd., has just opened a large bus station in Liverpool Road, Newcastleunder-Lyme. The site covers just over three acres and. accommodation is afforded for 66 vehicles, offices, a restaurant and a rest room also being provided.
First Dinner of South Western, Association.
THE South Western Motor Coach
Owners and Operators Association recently held its first annual dinner, when Captain Ir. A. Cazalet, M.C., Member of Parliament for Chippenham, was in the chair. The association was formed just under a year ago and Captain Cazalet is the president.
Controlling Vehicles at Whipsnade.
THE chairman of the East Midland Traffic. Commissioners, Mr. J. H. Stirk, has asked us to announce that draft regulations for the control of public-service vehicles operating to and from Whipsnade Park have just been agreed, and that they will be attached as conditions to all licences and/or backings issued in that area. Westminster Wants Coaches Banned.
AMONGST the authorities repre sented at the sitting of the Committee of Inquiry into London Motor Coach Services (1932), last week, was Westminster City Council. Three committees of the municipality have held a joint meeting to consider the exclusion of coaches from central London and the restriction of picking-up points. It has been agreed ghat coaches should not be allowed to:enter" the congested parts of central London.
Protection for Edinburgh Trams.
THE Southern Scotland Traffic Com missioners have granted protection to Edinburgh Corporation's tramways system. Companies running buses alongside or parallel with any train route in Edinburgh must charge at least a penny more than on the trains.
Sharp's Appeal Heard.
THE appeal of Mr. John Sharp, of
Stockport, against the North-Western Traffic Commissioners' restrictions on his services has been heard at Manchester by Colonel R. H. Tolerton. The routes under consideration were those from Woodford to Manchester and from. Winton to Manchester.
Support for Mr. Sharp was forthcoming from Eccles Corporation. Hazel Grove Urban District Connell, Macclesfield Rural District Council and Hazel Grove and District Ratepayers Association. The appeal was opposed by the corporations of Manchester, Salford and Stockport, as well as by the NorthWestern Road Car Co., Ltd., and the London, Midland and Scottish Railway Co.
The appearance of the ratepayers' association was refused, it being agreed that its representative should ,submit direct to the Minister of Transport a_ petition signed by 30,000 persons.
On behalf of Mr. Sharp it was stated that the Woodford-Manchester service had been operated for a number of years and carried in excess of 900,000 passengers a year' whilst the Winton service conveyed 500,000 people a year.
Ratepayers Support Northern Appeal.
ON behalf of the Ministry of Trans port, Colonel R. H. Tolerton has heard, at Manchester, the appeal of Mr. H. G. Orr, of Little Lever, against the North-Western Traffic Commissioners' refusal of licences for four services.
The corporations of Salford and Manchester objected to the Prestwich Ratepayers and Bus Users Association sup porting the appeal. It was stated that 11,000 residents in Prestwich had signed a petition expressing dissatisfaction with the Commissioners' decision, and that on one service for which a licence had been refused 1,036,000 passengers were carried last year, whilst on another route 563,000 persons were carried.
On the second day of the appeal evidence on behalf of the objectors was heard, including that of the London, Midland and Scottish Railway Co.
Plea for Municipal Support.
'AN unsuccessful effort to gain the sup port of Stretford Urban District Council has been made by ()ream's (Lancashire), Ltd., which is appealing to the Minister of Transport against a decision of the North-Western Traffic Commissioners.
The company has been granted a licence for a service from Rochdale to North Wales, but the vehicles are not allowed to pick up passengers at any point beyond Failsworth, including Stretford, on the outward journey, or between Llandudno and Failsworth on the return trip. Fares Agreement in Newcastle.
IT was announced at a recent sitting of the Northern Traffic Commissioners, at Newcastle, that all operators in the Newcastle district had reached an agreement regarding excursion fares. This statement was made by Mr. H. A. Stagg, resident director of the Northern General Transport and its associated companies.
Arrangements were stated to have been made for holding a meeting to consider fixing excursion fares for the whole of the north-east country.
Cheaper Bus Fares Wanted. THE general purposes committee of Paignton Urban District Council is to make representations to the bus companies operating in the district, and, if necessary, to the Western Traffic Commissioners, for reduced fares.
Move for S.E. Bus Inquiry.
IT is reported that efforts are being made to have a Ministry of Transport inquiry held at Chatham to conalder the claims of small bus operators In Rochester, Chatham. and Strood. Several of these were some time ago refused licences and, later, they lost their appeals to the Ministry of Transport, but since then the owners have petitioned the Minister with a view 'to obtaining reconsideration of their case.
Objections to 12 Services. FORMAL objections to 12 applica tions for atage-carriage licences have been lodged with the North-Western Traffic Commissioners by Stretford Urban District Council. The proposed services are mainly from outlying parts to the Trafford Park area. Manchester Corporation and Trafford Park Estates, Ltd., have also lodged objections.
Municipal Protection Refused.
A PLEA by Yarmouth Corporation for
protection for a service to a racecourse was refused at a recent sitting of the Eastern Traffic Commissioners. The case was one in which 12 Yarmouth operators applied for permission to run, on race days, services from the Marine Parade to the neighbouring racecourse, and the corporation sought protection on the ground that its own service was worked all the year round and, during the winter, was unremunerative.
The chairman of the Commissioners said evidence had not been produced that the municipal authority could satisfactorily deal with all race traffic. The private operators ware, therefore, granted the licences for which they asked.
Southport Bus-station Scheme. THE Ministry of Transport has approved Southport Corporation's proposals to provide a bus station at the junction of the Esplanade and the Promenade. The borough engineer has submitted an amended plan of the Esplanade bus station, showing increased accommodation, providing for a parcels office, inspector's office, enlarged waiting room, etc., at a cost of £2,285.
Overcoming a Licensing Anomaly. JUST too late for inclusion in last
week's issue, news came to hand that Mr. Rovrand Harker, K.C., chairman of the South-Eastern Traffic Commissioners, had announced that the Minister of Transport was about to promulgate his decision on an appeal against the ruling of another body of Commissioners in connection with the number of vehicles to be operated on express services passing through their area to the terminal points.
The Minister had decided that if there was no question of picking up and setting down passengers in the intermediate area, the conditions as to the number of vehicles employed on a route might properly be left to the Commissioners in whose areas the terminal points were situated.
Bootle and MacShane's Licences. AS is already known, the North Western Traffic Commissioners have refused to allow Ribble Motor Services, Ltd., to operate services previously worked by the Merseyside Touring Co., Ltd., and Liverpool Corporation has been refused permission to extend a service from Watts Lane to Ford Station, but this authority has been authorized to withdraw certain other services. Licences to operate all the services have been granted to MaeShane's Motors, Ltd., subject to a condition giving protection to Liverpool Corporation's tramway services.
A sub-committe-e of the Bootle autherity has been appointed to interview, representatives of Litherland Urban District Council with a view to uniform action being taken by the councils on the matter of the licence conditions. Bootle town clerk has been authorized to take any action that may be deemed necessary.
Stabilizing Excursion Fares.
EFFORTS are being made in the
North-Western Area to stabilize coach excursion fares, and suggestions for rates have been made to the NorthWestern Traffic Commissioners. On behalf of Bolton operators, it was proposed that the charge should be ld. a mile for the first 50 miles and thereafter d. a mile.
On behalf of the North-Western Road Car Co., Ltd., and Ribble Motor Services, Ltd., it was suggested that excursion rates should be at least as high as those on stage-carriage services. The Crosville company advocate.d that no excursion should be of
less than 24 miles, with a minimum fare Of 28., and proposed that id. a mile should be charged for distances up to 50 miles, 4(1. a mile up to 100 and, for longer journeys, .6d. per mile.
It was contended that Wrexham people could not afford to pay id per mile for the first 50 miles.
The chairman of the Commissioners explained that there was to be no attempt to standardize fares for the whole of the area, but the object was to obtain uniformity in various districts. It was alleged that the railways were 'running excursions from Manchester to Southport at 3s. 6d., as compared with, Sc. 6d. by coach.
A Bus Petition Fails.
DESPITE a petition, which was said to have been signed by over 2,000 residents in the Chilton district of Co. Durham, in support of an application by the A.B.C. Bus Co., this concern was refused permission by the l'y'orthern Traffic Commissioners to pick up and set down passengers at certain points on the Sunderland-Darlington route. A similar unsuccessful request was made in November last.
Thomson's Tour Plans for 1932.
A WELL-PRODUCED publication has
just been issued by Thomson's Tours and World Travel Service, 263, Hope Street, Glasgow, 0.2, detailing its tour plans for the forthcoming season. The tours cover various parts of Scotland, Ireland, the English Lakes, Shakespeare country, Devon and Cornwall, etc. An attractive foreign trip is that to the Riviera by Daimlerways coach, occupying 15 days. East Midland Fares to be Fixed.
THE chairman of the East Midland Traffic Commissioners announced at a recent sitting that they intended to publish before Whitson a list of fares for excursions from 248 towns in the area. Any agreement arrived at by the operators would not be binding on the railway companies.
Interchangeable Tickets in Potteries.
IT is understood that on the Leek Hanley route, via Cheddleton, interchangeable tickets are being issued by the Potteries Electric Traction Co., Ltd., Messrs. F. Proctor and Sons, and Mr. J. M. Berresford.
South-Eastern Operator Appeals.
THE Ministry of Transport has heard an appeal against the refusal of the South-Eastern Commissioners to license a Gravesend-Meophana service of the Gravesend and District Bus Services, Ltd. The application was opposed by the Maidstone and District Motor Services, Ltd.
Ribble Wages Agreement.
THE wages and conditions of em
ployees form the subject of an agreement that has just been reached between Ribble Motor Services, Ltd., and the National Union of Railwaymen.
The drivers of buses accommodating over 24 passengers are to be paid is. 3d. per hour for the first 12 months of regular Service, is. 3id. an hour for the next two years, and 1s. 4id. an hour after that period. The wages of conductors are to be 1. 1d., is. I id., and Is. 2d. per hour. Junior conductors
begin at 18 years of age with 8d. an hour and receive full rate when thby are 21. Adult drivers and conductors on vehicles seating up to 18 persons are to be paid 1s. id. and 1s. respectively per hour, whilst on buses accommodating 19-24 passengers they ara to receive 1s. 2d. and 1s. per hour respectively.
Drivers and conductors are to be guaranteed a week of 48 hours, and overtime is to be paid at time and a quarter when a figure in excess of 54 hours a week is reached.
Railway Opposition Fails.
DESPITE opposition from the rail ways, Black and White Motorways, Ltd., of Cheltenham, has been granted licences for services from headquarters to Nottingham, Bournemouth, 'Wolverhampton and Derby. Objections were entered by the London, Midland and Scottish Railway Co.
In granting the licences, the chairman of the Western Commissioners remarked that the services were operated in close connection with others, and that if they were not allowed to run the public would suffer inconvenience.
Wolverhampton May Have 1d. Fares.
IT is believed that, after the annual
accounts have been presented in June next, Wolverhampton Corporation's transport committee may consider the introduction of id. fares. These were abandoned shortly after the war, since when many requests have been made for their reinstatement. One of the reasons against the re-introduction of id fares was the debt on the old Lorain tramways system, but this has now been paid off.
Tags
Organisations
:
Westminster City Council
,
Operators Association
,
Committee of Inquiry
,
District Ratepayers Association
,
Paignton Urban District Council
,
Rural District Council
,
Litherland Urban District Council
,
Transport and General Workers Union
,
Prestwich Ratepayers and Bus Users Association
,
Ministry of Trans
,
National Union
,
Parliament for Chippenham
,
Stretford Urban District Council
,
Industrial Court
,
South Western Motor Coach Owners and Operators Association
,
Ministry of Transport
People
:
J. H. Stirk
,
Ir
,
Rovrand Harker
,
John Maxwell
,
H. G. Orr
,
A. Cazalet
,
R. H. Tolerton
,
J. M. Berresford
,
Hazel Grove
,
H. A. Stagg
,
John Sharp
Locations
:
Rochester
,
Derby
,
Sunderland
,
Stockport
,
Manchester
,
Crosville
,
Salford
,
Woodford
,
Glasgow
,
Nottingham
,
London
,
Winton
,
Edinburgh
,
Durham
,
Newcastle