ITEMS OF NEWS IN A FEW LINES
26th April 1932
Page 49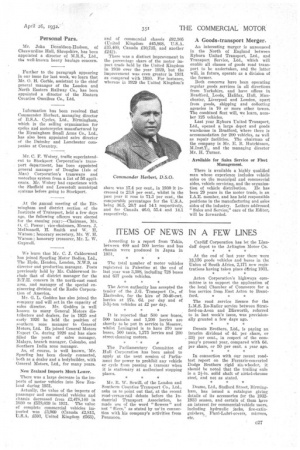 Page 49, 26th April 1932 —
ITEMS OF NEWS IN A FEW LINES
Close
According to a report from Tokio, between 400 and 500 lorries and bus chassis were produced in Japan in 1931, The total number of motor vehicles registered in Palestine at the end of last year wag 3,398, including 728 buses and 637 goods vehicles.
The Acton authority has accepted the tender of the J.G. Transport Co., of Harlesden, for the hire of 30-40-cwt. lorries at 27s. 6d, per day and of 3-3i-ton vehicles at £2 per day.
It is reported that 500 new buses, 500 taxicabs and 1,200 lorries are shortly to be put in service in Moscow, whilst Leningrad is to have 370 new buses, 500 taxis, 1,275 lorries and 200 street-cleaning motors.
The Parliamentary Committee of Hull Corporation has been asked to apply at the next session of Parliament for power to prohibit any vehicle or cycle from passing a tramcar when it is stationary at authorized stopping places.
Mr. R. W. Sewill, of the London and Southern Counties Transport Co., Ltd., asks us to point out that, at the recent road-versus-rail debate before the Industrial Transport Association, he made use of the word " flowers " and not "fliers,' as stated by us ° in connection with his company's activities from Penzance. Cardiff Corporation has let the Llan • daff depot to the Arlington Motor Co.
At the end of last year there 'were 18,176 goods vehicles and buses in the Union of South Africa, 2,171 new registrations having taken place dfiring 1931.
Acton Corporation's highways committee is to support the application of the local Chamber of Commerce for a bus service from East Acton to Brent ford. * The road service licence for the L.M.S. Re-Railer service between Stratford-on-Avon and Blisworth, referred to in last week's issue, was provisionally granted a few days ago.
Dennis Brothers, Ltd., is paying an interim dividend of 4d. per share, or .33 per cent., in respeot of the company's present year, compared with 6d. per share, or 50 per cent, a year ago.
In connection with our recent roadtest report on the Ferraris-converted Dodge Brothers rigid six-wheeler, it should be noted that the trailing axle is a 2fin. solid shaft of nickel-chrome steel, and not as stated.
Desmo, Ltd., Stafford Street, Birmingham, has issued a catalogue giving details of its accessories for the 19321933 season, and certain of them have an interest for commercial-vehicle users, including hydraulic jacks, fire-extinguishers, Flexi-Lubri-covers, mirrors, etc.