The next issue of this journal, dated May 3rd, will be the
26th April 1932
Page 48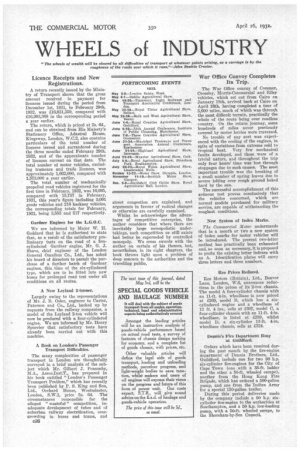 Page 48, 26th April 1932 —
The next issue of this journal, dated May 3rd, will be the
Close
SPECIAL GOODS VEHICLE AND HAULAGE NUMBER
It will deal with the subieet of goods transport from all angles, operating, technical, legal and administrative aspects being authoritatively covered
Amongst the leading articles will be an instructive analysis of goods-vehicle performance based on actual road tests, a survey of features of chassis design making for economy, and a complete list of goods chassis, with prices, etc.
Other valuable articles will define the legal side of goods transport, loading and unloading methods, parcelcar progress, and light-weight bodies to save taxation, whilst makers and users of oil engines will express their views . on the progress and future of this form of power unit. Our costs expert, &MR., will give sound advice on the i..s.d. of haulage and goods-vehicle operation.
The price of this issue will be M., cm usual.