ONE HEARS
26th April 1932
Page 47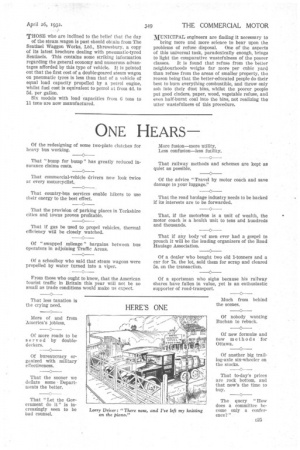 Page 47, 26th April 1932 —
ONE HEARS
Close
Of the redesigning of some two-plate clutches for heavy bus working.
That "bump for bump" has greatly reduced inmance claims costs.
That commercial-vehicle drivers now look twice at every motorcyclist.
That country-bus services enable hikers to use their energy to the best effect.
That the provision of parking places in Yorkshire cities and towns proves profitable.
That if gas be used to propel vehicles, thermal efficiency will be closely watched.
Of "swapped mileage" bargains between bus operators in adjoining Traffic Areas.
Of a schoolboy who said that steam wagons were propelled by water turned into a viper.
From those who ought to know, that the American tourist traffic in Britain this year will not be so small as trade conditions would make us expect.
That less taxation is the crying need.
More of and from America's jobless.
Of more roads to be served • by doubled eckers.
Of bureaucracy organized with military effectiveness.
That the sooner we deflate some Departments the better.
That "Let the Government do it" is increasingly seen to be bad counsel. More fusion—more utility, Less confusion—less futility.
That railway methods and schemes are kept as quiet as possible.
Of the advice "Travel by motor coach and save damage to your luggage."
That the road haulage industry needs to be backed If its interests are to be forwarded.
That, if the motorbus is a unit of wealth, the motor coach is a health unit to tens and hundreds and thousands.
That if any body -of men ever had a gospel to preach it will be the leading organizers of the Road Haulage Association.
Of a dealer who bought two old 1-tonners and a car for 7s. the lot, sold them for scrap and cleared 5s. on the transaction.
Of a sportsman who sighs because his railway shares have fallen in value, yet is an enthusiastic supporter of road-transport.
Much from behind the scenes.
Of nobody wanting Buchan to rebuck.
Of new formai% and new methods for Ottawa.
Of another big trailing-axle six-wheeler on the stocks.
That to-day's prices are rock bottom, and that now's the time to buy.
The query "How does a committee become only a conference?"