SCANIA HAS REVEALED minor makeovers to its P, G and
25th September 2008
Page 8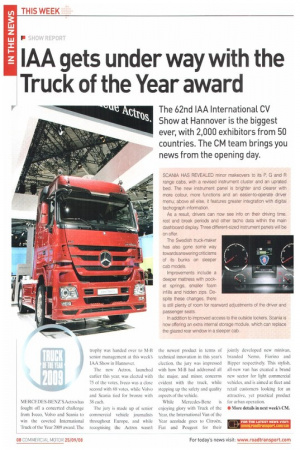 Page 8, 25th September 2008 —
SCANIA HAS REVEALED minor makeovers to its P, G and
Close
R range cabs, with a revised instrument cluster and an uprated bed. The new instrument panel is brighter and clearer with more colour, more functions and an easier-to-operate drH/er menu; above all else, it features greater integration with digital tachograph information.
As a result, drivers can now see info on their driving time, rest and break periods and other tacho data within the main dashboard display. Three different-sized instrument panels will be on offer.
The Swedish truck-maker has also gone some way towards answering criticisms of its bunks on sleeper cab models.
Improvements include a deeper mattress with pocket springs, smaller foam inf ills and hidden zips. Despite these changes, there is still plenty of room for rearward adjustments of the driver and passenger seats.
In addition to improved access to the outside lockers, Scania is now offering an extra internal storage module, which can replace the glazed rear window in a sleeper cab.