When all the chips are down
25th September 2008
Page 30
Page 31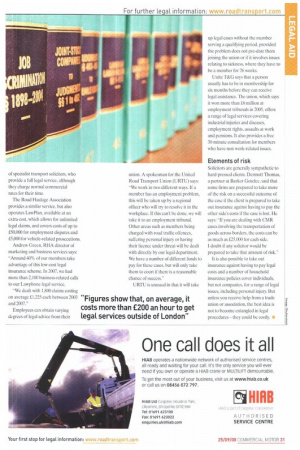 Page 30, 25th September 2008 —
When all the chips are down
Close
Keywords :
Law
,
Types Of Insurance
,
Legal Costs
,
Legal Professions
,
Financial Institutions
,
Institutional Investors
,
Legal Expenses Insurance
,
Legal Aid
,
Costs
,
Insurance
,
Labor
,
Law / Crime
Given the plethora of transport and employment Legislation, it is Likely that operators and drivers will need legal advice at some stage. What options are easiest on the pocket?
Words: Mike Sherrington
including employment issues. CLS will offer advice and assistance with legal problems and legal representation in court hearings. However, cases have to have a reasonable chance of success, and eligibility for assistance is means tested and is not available to people with a gross income of more than £2,435 a month, or savings of more than £5,000. It is not intended for resolving commercial disputes.
No-win, no fee
One area where the system offered the most help to the road haulage industry vanished in 1997 when the Government decided to end legal aid for personal injury cases as a cost-saving measure.
This gave rise to a number of organisations offering personal injury legal cover on a "no-win no-fee" basis. However, seasoned transport lawyers are wary of these deals, saying that quite often, the fees charged in a successful claim wipe out most of the compensation won. Also, in many cases, the claims manager will not allocate potential claims to the best solicitor but rather to the one who offers the most money for the tip-off.
Alternatively, the two major transport sector trade associations also offer legal services, but these are only available to members, and you can't join up with a problem and expect to get immediate legal help.
The Freight Transport Association provides initial legal advice to members as well as operating a panel of specialist transport solicitors, who provide a full legal service, although they charge normal commercial rates for their time.
The Road Haulage Association provides a similar service, but also operates LawPlan, available at an extra cost, which allows for unlimited legal claims, and covers costs of up to £50,000 for employment disputes and £5,000 for vehicle-related prosecutions.
Andrew Green, RHA director of marketing and business services says: "Around 40% of our members take advantage of this low-cost legal insurance scheme. In 2007, we had more than 2,100 business-related calls to our Lawphone legal service.
"We dealt with 1,800 claims costing on average £1,225 each between 2003 and 2007."
Employees can obtain varying degrees of legal advice from their union. A spokesman for the United Road Transport Union (URTU) says: We work in two different ways. If a member has an employment problem, this will be taken up by a regional officer who will try to resolve it in the workplace. If this can't be done, we will take it to an employment tribunal. Other areas such as members being charged with road traffic offences, suffering personal injury or having their licence under threat will be dealt with directly by our legal department. We have a number of different funds to pay for these cases, but will only take them to court if there is a reasonable chance of success."
URTU is unusual in that it will take up legal cases without the member serving a qualifying period, provided the problem does not pre-date them joining the union or if it involves issues relating to sickness, where they have to be a member for 26 weeks.
Unite .r&G says that a person usually has to be in membership for six months before they can receive legal assistance. The union, which says it won more than £6 million at employment tribunals in 2005, offers a range of legal services covering industrial injuries and diseases, employment rights, assaults at work and pensions. It also provides a free 30-minute consultation for members who have non work-related issues.
Elements of risk
Solicitors are generally sympathetic to hard-pressed clients. Derrnott Thomas, a partner at Barker Gotelee, said that some firms are prepared to take more of the risk on a successful outcome of the case if the client is prepared to take out insurance against having to pay the other side's costs if the case is lost. He says: -If you are dealing with CMR cases involving the transportation of goods across borders, the costs can be as much as £25,000 for each side. I doubt if any solicitor would be prepared to take that amount of risk."
It is also possible to take out insurance against having to pay legal costs and a number of household insurance policies cover individuals, but not companies, for a range of legal issues, including personal injury. But unless you receive help from a trade union or association, the best idea is not to become entangled in legal procedures — they could be costly. *