KCC renews push for M20 truck park
25th September 2008
Page 10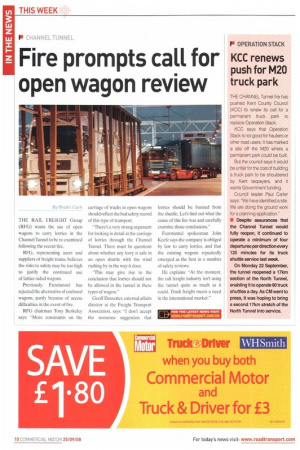 Page 10, 25th September 2008 —
KCC renews push for M20 truck park
Close
Keywords :
Kent
,
Counties Of England
,
Channel Tunnel
,
Local Government In England
,
Transport In Kent
,
Transport In Ashford, Kent
,
Eurostar
,
Rail Transport In England
,
Operation Stack
,
Tunnel
,
Kent County Council
THE CHANNEL Tunnel fire has pushed Kent County Council (KCC) to renew its call for a permanent truck park to replace Operation Stack.
KCC says that Operation Stack is not good for hauliers or other road users. It has marked a site off the M20 where a permanent park could be built.
But the council says it would be unfair for the cost of building a truck park to be shouldered by Kent taxpayers, and it wants Government funding.
Council leader Paul Carter says: "We have identified a site. We are clang the ground work for a planning application."
• Despite assurances that the Channel Tunnel would fully reopen, it continued to operate a minimum of four departures per direction every 120 minutes for its truck shuttle service last week.
On Monday 22 September, the tunnel reopened a 17km section of the North Tunnel, enabling it to operate 90 truck shuttles a day. As CM went to press, it was hoping to bring a second 17km stretch of the North Tunnel into service.