130 Vehicles Compete in Coventry Rally
25th September 1953
Page 62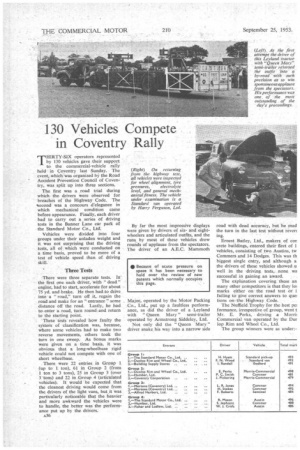 Page 62, 25th September 1953 —
130 Vehicles Compete in Coventry Rally
Close
THIRTY-S1X operators represented by 130 vehicles gave their support to the commercial-vehicle rally held in Coventry last Sunday. The event, -which' was organized by the Road Accident Prevention Council of Coventry, was split up into thre.e sections.
The first was a road trial during which the drivers were observed for breaches of the Highway Code. The second was a concours d'elegance in which mechanical condition came before appearance. Finally, each driver had to carry out a .series of driving tests in the Banner Lane car park of the Standard Motor Co., Ltd.
Vehicles were divided into four groups under their unladen weight and it was not surprising that the driving tests, all of which were conducted on a time basis, proved to be more of a test of vehicle speed than of driving skill.
Three Tests There were three separate tests. In the first one each driver, with "dead" engine, had to start, accelerate for about 75 yd. and brake. He then had to drive into a "road," turn off it, regain the road. and make for an "entrance " some distance off 'the road. Lastly, he had to. enter a road, turn roundz and return to the starting point.
These tests revealed -how faulty the system of classification was, because, where some vehicles had to make two reverse movements, others took the turn in one sweep. As bonus marks were given on a time basis, it was obvious that a long-wheelbase rigid vehicle could not compete with one of short wheelbase.
. There were 22 entries. in Group 1 (up to 1. ton), 61 in Group 2 (from 1 ton to 3 tons), 25 in Group 3 (over 3-tons) and 22 in Group 4 (articulated vehicles). It would be expected that the cleanest driving would come from the, drivers of the light vans, but it was particularly noticeable that the heavier' and more awkward the vehicles were to handle, the better was the performance put up by the drivers.'
A36 By far the most impressive displays were given by drivers of sixand eightwheelers and articulated outfits, and the runs by most of these vehicles drew rounds of applause from the spectators. The driver of an A.E.C. Mammoth Major, operated by the Motor Packing Co., Ltd., put up a faultless performance, as did the driver of a Leyland with "Queen Mary" semi-trailer operated by Armstrong Siddeley, Ltd.
Not only did the "Queen Mary" driver snake his way into a narrow side road with dead accuracy, but he mad the turn in the last test without revert ing.
Ernest Batley, Ltd., makers of cor crete buildings, entered their fleet of 1 vehicles, consisting of two Austins, tw Commers and 14 Dodges. This was th biggest single entry, and although a the drivers of these vehicles showed u well in the 'driving tests, none wa successful in gaining an award. .
The explanation covering these an many other competitors is that. they loi marks either on the road test or. i failing to give correct answers to que: tions onthe .Highway Code.
The Nuffield_Trophy for the best pa formance, irrespective of group, went t Mr. E. Perks, driving a Morrii Commercial van 'operated by the Dur lop Rim and Wheel Co., Ltd.
The group winners were as under: