Light-alloy Bodies for Thornycroft Range
25th September 1953
Page 53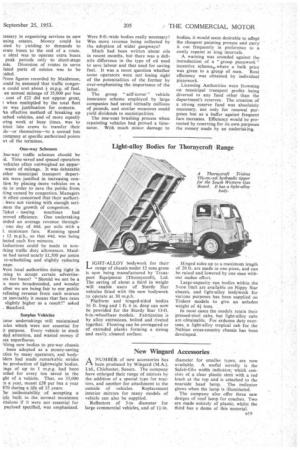 Page 53, 25th September 1953 —
Light-alloy Bodies for Thornycroft Range
Close
1GHT-ALLOY bodywork for their range of chassis under 12 tons gross is now being manufactured by Transport Equipment (Thornycroft), Ltd. The saving of about a third in weight will enable users of Sturdy Star vehicles fitted with the new bodywork to operate at 30 m.p.h.
Platform and hinged-sided bodies 16 ft. tong and 1 ft. 6 in. deep can now be provided for the Sturdy Star 13-ft. 6-in.-wheelbase models, Fabrication is by alloy extrusions, bolted and riveted together. Flooring can be corrugated or of extruded planks forming a strong and ea sily_ cleaned surface. Hinged sides up to a maximum length of 20 ft, are made in one piece, and can be raised and lowered by one man without undue. effort.
Large-capacity van bodies within the 3-ton limit are available on Nippy Star chassis, and light-alloy bodywork for various purposes has been supplied on Trident models to give an unladen weight of 4i tons.
In most cases the models retain their pressed-steel cabs, but light-alloy cabs are obtainable. For arduous duty overseas, a light-alloy tropical cab for the Nubian cross-country chassis has been developed.