M.P.T.A. Conference, Belfast
25th September 1953
Page 52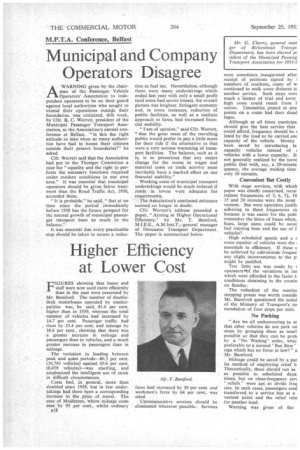 Page 52, 25th September 1953 —
M.P.T.A. Conference, Belfast
Close
Municipal and Company Operators Disagree
AWARNING given by the chairman of the Passenger Vehicle Operators' Association to independent operators to be on their guard against local authorities who sought to extend their operations outside their boundaries, was criticized, this week, by Cllr. R. C. Werrett, president of the -Municipal Passenger Transport Association, at the Association's annual conference .at Belfast. • "is this the right attitude to take when so many authorities have had to house their citizens outside their, present boundaries?" he asked.
Ur. Werrett said that the Association had put to the Thesiger Committee a case for "equality and the right to perform the necessary functions required under modern conditions in our own -area," It was essential that municipal operators should be given fairer treatment than the Road Traffic Act, 1930, accorded them.
"It is probable," he said, "that at no time since the period immediately before 1930 has the future prospect for the natural growth of municipal passenger transport been so much in the balance."
It was essential that every practicable step should be taken to secure a reduc tion in fuel tax. Nevertheless, although there were many undertakings which ended last year with only a small profit (and some had severe losses), the overall picture was brighter. Stringent economy and, in some instances, reduction of public facilities, as well as a realistic approach to fares, had increased financial stability, "I am of opinion," said air. Werrett, that the great mass of the travelling public would prefer to pay a little more for their ride if the alternative to that were a very serious worsening of transport facilities. The balance, such as it is, is so precarious that any major change for the worse in wages and material costs or trade activity must inevitably have a marked effect on our financial stability."
Working costs of municipal transport undertakings would be much reduced if roads in towns were adequate for requirements.
The Association's continued existence seemed no longer in doubt.
Cllr. Werrett's address preceded a paper, "Aiming at Higher Operational Efficiency," by Mr. T. Bamford, M.I.E.E., A.M.Inst.T.; general manager of Doncaster Transport Department. The paper is summarized below.