Four-wheeled Lorry or Articulated Vehicle
25th September 1953
Page 45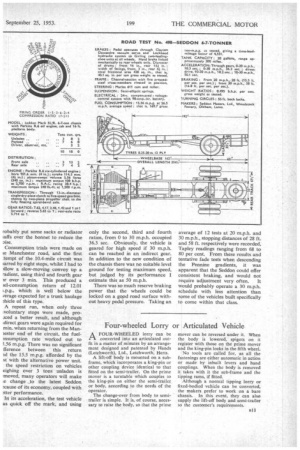 Page 45, 25th September 1953 —
Four-wheeled Lorry or Articulated Vehicle
Close
A FOUR-WHEELED lorry can be rA converted into an articulated outfit in a matter of minutes by an arrangement designed and patented by Hands (Letchworth), Ltd., Letchworth, Herts.
A lift-off body is mounted on a subframe, which incorporates a king-pin or other coupling device identical to that fitted on the semi-trailer. On the prime mover is a turntable which couples to the king-pin on either the semi-trailer or body, according to the needs of the operator.
The change-over from body to semitrailer is simple. It is, of course, necessary to raise the body, so that the prime mover can be reversed under it. When the body is lowered, spigots on it register with those on the prime mover and the king-pin locks in the fifth wheel.
No tools are called for, as all the fastenings are either automatic in action or made by inbuilt levers and hand couplings. When the body is removed it takes with it the sub-frame and the tipping rams, if fitted.
Although a normal tipping lorry or fixed-bodied vehicle can be converted, the makers prefer to work on a bare chassis. In this event, they can also supply the lift-off body and semi-trailer to the customer's requirements.