Hauliers Worked ti Exhaustion
25th September 1953
Page 38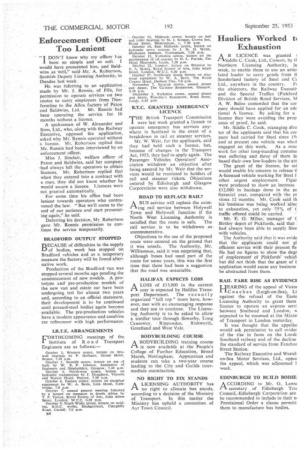 Page 38, 25th September 1953 —
Hauliers Worked ti Exhaustion
Close
A B LICENCE was granted i L-XSiddle C. Cook, Ltd., Consult, by ti Northern Licensing Authority, la week, to enable them to use an artici lilted loader to carry goods from ti Sunderland factory of Steel arid Cc
Ltd., anywhere in the country. Fi the objectors, the Railway Executii and the Special Traffics (Pickford Division of British Road Services, M A. W. Baltic contended that the cor pany should have applied for an adc tional A licence. By asking for a licence they were avoiding the prop onus of proof, he said.
Mr. Siddle C. Cook, Managing dire tor of the applicants said that his cor pany had carried for Steel since 194 and at present one vehicle was whol engaged on this work. As a resu work for other long-standing custome was suffering and three of them h`: based their own low-loaders in the are
The grant of the licence, he sai would enable his concern to release ti A-licensed vehicle working for Steel f other urgent employment. Figur were produced to show an increase £12,000 in haulage done in the pa financial year, compared with the pr vious 12 months. Mr. Cook said th his' business was beihg worked aIMc to exhaustion, yet only 75%. of t• traffic offeted could be carried.
Mr. E. G. Milne; manager of t" BirtIey depot of Pickfords, said that had always been able to supply Stee with vehicles.
The Authority said that it was evide that the applicants could not gi efficient service with their present flu He had no figures to show the degr of employment of Pickfords' vehicl, but did not think that the grant of t application would cause any business be abstracted from them.
RAIL FARE RISE AS EVIDENCI
HEARING of the appeal of Victoi Coaches (Leigh-on-Sea), Lt against the refusal of the Easte Licensing Authority to grant them licence to operate an express servi between Southend and London, la expected to be resumed at the Minisi of Transport in London yesterday.
It was thought that the appellai would ask permission to call evider of the rise in fares on the Londc Southend railway and of the decline the standard of service from Fenchm Street Station.
The Railway Executive and Westcli on-Sea Motor Services, Ltd., oppce the appeal, which was adjourned 1 week.
EDINBURGH TO BUILD BODIE
ACCORDING to Mr. G. Laws( /-1. secretary of Edinburgh Trac Council,-Edinbergh Corporation are be recommended to include in their ni Provisional Order a clause permittl them to manufacture bus bodies.