Enforcement Officer Too Lenient
25th September 1953
Page 38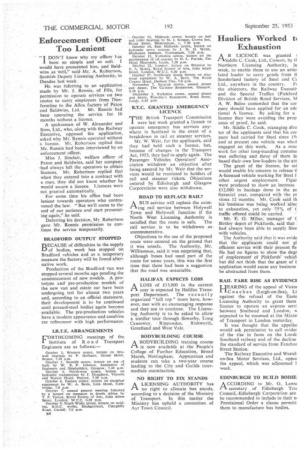 Page 38, 25th September 1953 —
Enforcement Officer Too Lenient
Close
" I DON'T know why my officer has been so simple and so soft. I would have prosecuted him, and Baldwins as well," said Mr. A. Robertson, Scottish Deputy Licensing Authority, in Dundee last week.
He was referring to an application made by Mr. J. Rennie, of Fife, for permission to operate services or two routes to carry employees from Dunfermline to the Alloa factory ot Paton
and Baldwins, Ltd. Mr. Rennie had been operating the service for. 16 months without a licence.
A spokesman of W. Alexander and Sons, Ltd., who, along with the Railway Executive, opposed the application, asked why Mr. Rennie operated without a licence. Mr. Robertson replied that Mr. Rennie had been interviewed by an enforcement officer.
Miss .1. Sinclair, welfare officer of Paton and Baldwins, said her company had always left the operators to obtain licences. Mr. Robertson replied that when they entered into a contract with a man, they did not know whether he would secure a licence. Licences were not granted automatically.
For some time his office had been lenient towards operators who contravened the, law. "But we'll come to the end of our patience and start prosecuting again," he said.
Deferring his decision, Mr. Robertson gave Mr. Rennie permission to continue the service temporarily.
BRADFORD OUTPUT STOPPED
BECAUSE of difficulties in the supply of bodies, work has stopped on Bradford vehicles and as Tt temporary measure the factory will be found alternative work.
Production of the Bradford van was stopped several months ago pending the announcement of new models. A prototype and pre-production models of the new van and estate car have been undergoing test for almost two years and, according to an official statement, their development is to be continued until pressed-steel bodies again become available. The pre-production vehicles have a modern appearance and combine car refinement with high performance.
L.R.,T.E. ARRANGEMENTS
FORTHCOMING meetings of the Institute of Road Transport Engineers are as follows:— October 1, Western centre, lecture an thinwall bearings by P. Halligan, Grand Hotel, Bristol, 7.30 p.m.
October 5, Scottish centre, lecture on use of fuels by W. E. P. Johnson, Institution nf Engineers and Shipbuilders, Glasgow, 7.30 p.m.
October 6, North-west centre, lecture on hydraulic transmission by I. Houghton,. Victoria and Station Hold, Preston, 7.30 P.m. October 6, Eastern centre, lecture on electrical equipment by W. A. Bevis, Lion Hotel, Cambridge, 7.0 p.m.
October 7, annual general meeting followed by a lecture on transport in South Africa by T. F. Tinton, Royal Society of Arts, Paha Adam Street. London', W,C,2, 6.30pan. October 9; South Waits group, lecture On welding, B.0,C. works, Bitcbgroveon, Caerphilly Road, Cardiff, 7,0 pins.
October 13, Midlands centre, lecture on ball
and roller bearings by M. J. Knaggs,Crown Inn, Broad Street. Birmingham, I, 7.30 p.m. . October 14, East Midlands centre, lecture On hydraulic servo systems by I. St. H. Webb, Mechanics Institute, Nottingham, 7.30 p.m.
October 15, Yorkshire centre, lecture on the maintenance of oii engines by H. L. Parrish, The Hotel Metropole, Leeds. 730 p.m.
°after 22, London, lecture on filtration by
B. A. Stokes,. Royal Society of Arts, John Main Street, London, W.C.2, 6.30 p.m.
' October 27. North-east group lecture on dee-ideal equipment by W. A. Bevis. The Royal County Hotel, Durham City, 7.0 p.m.
November 7, Scottish Centre, annual dinner and dance, The 'Ca'doroRestaurant, Glasgow. 6.30 p.m.
December 3, Yorkshire centre, annual dinner and dance, Powolny's Restaurant, Bind Street. Leeds, 6.45 p.m.
. g.T.C. GRANTED EMERGENCY LICENCE THE British Transport Commission were last week granted a licence to operate emergency bus services anywhere in Scotland in the event of a breakdown in rail or steamer services.
Mr. W. Weir, for the applicants, said they had held such • a licence, but, because of changes in the Transport Act, l53, they had to apply again. The Passenger Vehicles Operators' Association withdrew an objection• after being assured by Mr. Weir that the services would be restricted to holders of rail and steamer tickets. Objections entered by Edinburgh and Glasgow Corporations were also withdrawn.
ROAD TO REPLACE RAIL? A BUS service will replace the existking rail service between Holywell Town and Holywell Junction if the North West Licensing Authority is
satisfied that the route is safe. The rail service is to be withdrawn as =remunerative.
Objections to the use of the proposed route were entered on the ground that it was unsafe. The Authority, Mr. Williamson, said it was surprising that, although buses had used part of the route for some years, this was the first time that there had been a suggestion that the road was unsuitable.
HALIFAX EXPECTS LOSS
1-1 A LOSS of £13,000 in the current year is expected by Halifax Transport Department. The recently organized "hill top" tours have, however, met with an encouraging response and they are to continue. The Licensing Authority is to be asked to allow a similar tour through Sowerby, Long Causeway, Ripponden, Rishworth, Greetlartd and West Vale.
BODYBUILDING COURSE
A BODYBUILDING training course PI, is now available at the People's College of Further Education, Broad Marsh, Nottingham. Apprentices and students can take a two-year course leading to the City and Guilds intermediate examination.
NO RIGHT TO FIX STANDS
A LICENSING AUTHOR= has Pl. no right to allocate bus stands, according to a decision of the Ministry of Transport. In this matter the Ministry has upheld a contention of Ayr Town Council.
Tags
Organisations
:
North West Licensing Authority
,
Institute of Road Transport Engineers
,
Scottish Centre
,
Halifax Transport Department
,
Licensing Authority
,
Royal Society of Arts
,
People's College of Further Education
,
Scottish Deputy Licensing Authority
,
Ayr Town Council
,
Mechanics Institute
,
British Transport Commission
,
Ministry of Transport
Locations
:
Durham City
,
Victoria
,
Preston
,
Cambridge
,
Cardiff
,
Leeds
,
Glasgow
,
Nottingham
,
London
,
Birmingham
,
Bradford
,
HALIFAX
,
Bristol
,
Holywell Town
,
Edinburgh