Exports Highest for 14 Months
25th September 1953
Page 37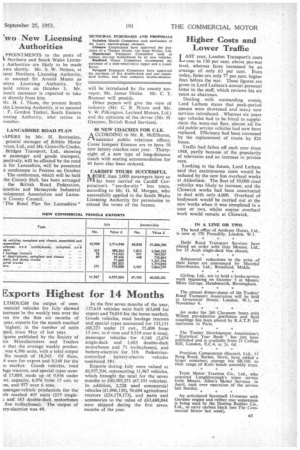 Page 37, 25th September 1953 —
Exports Highest for 14 Months
Close
LTHOUGH the output of commercial vehicles for July showed increase in the weekly rate over the res for the first six months of year, exports for the month reached highest, in the number of units Ted, since May of last year.
igures published by the Society of tor Manufacturers and Traders a? that. the average weekly producwas 4,586 units, with a total output the month of 18,343. Of these, 4 were for export and 9,149 for the le market. Goods vehicles, road lage tractors, and special types num!cl 17,889, made up of 9,936 under wt. capacity, 6,976 from 15 cwt. to .ns, and 977 over 6 tons.
assenger-vehicle producticin for the ith reached 405 units (217 singlet and 183 double-deck motorbuses five trolleybuses). The output of ery-electrics was 49. In the first seven months of the year, 137,618 vehicles were bifilt (63,608 for export and 74,010 for the home market). Goods vehicles, road haulage tractors and special types accounted for 133,151 (68,223 under 15 cwt., 55,409 from 15 cwt. to 6 tons and 9,519 over 6 tons), passenger vehicles for 4,148 (2,674 single-deck and 1,403 double-deck motorbuses and 71 trolleybuses), and battery-electrics for 319. Pedestrian controlled battery-electric vehicles numbered 59L Exports during July were valued at £6,937,504,. representing 11,967 vehicles, which brought the total for the seven months to £40,505,351 (67,103 vehicles). In addition, 2,228 used commercial vehicles (£1,006,130), 56,604 agricultural tractors (£24,179,173), and parts and accessories to the value of £43,688,844 were shipped during the first seven months of the year.