4 wo New Licensing 'Authorities
25th September 1953
Page 37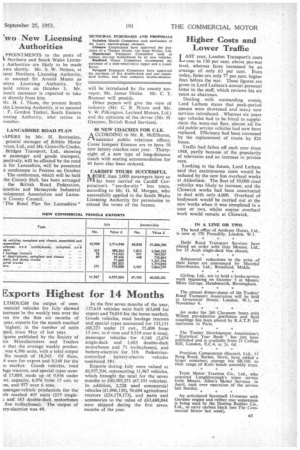 Page 37, 25th September 1953 —
4 wo New Licensing 'Authorities
Close
PPOINTMENTS to the posts of Northern and South Wales Licens; Authorities are likely to be made own shortly. Mr. S. W. Nelson, at :sent Northern Licensing Authority, to succeed Sir Arnold Musto as !stern Licensing Authority. Sir nold retires on October 3. Mr. 'Ison's successor is expected to take er directly from him.
41r. H. J. Thom, the present South Iles Licensing Authority, is to succeed -. F. Gordon Tucker, South Eastern :ensing Authority, who retires in•
• vember.
LANCASHIRE ROAD PLAN 1APERS by Mr. H. Bottomley, general manager of Ribble Motor 'vices, Ltd., and Mr. Granville Cooke, Bridges Transport, Ltd., showing w passenger and goods transport, pectively, will be affected by the road .n for Lancashire, will be presented a conference in Preston on October The conference, which will be held the County Hall, has been arranged the British Road Federation, ncashire and Merseyside Industrial velopment Association and Lanca7e County Council.
'The Road Plan for Lancashire" will be introduced by the county surveyor, Mr. James Drake. Mr. C. T. Brunner will preside.
Other papers will give the view of industry (Mr. C B. Nixon and Mr. V. W. Pilkington, Leyland Motors, Ltd.) and the opinions of the driver (Mr. H. Grayson, British Road Services).
88 NEW COACHES FOR CIE.
A CCORDING to Mr. R. McElheron, (.assistant public relations officer, Coras Iompair Eireann are to have 50 new luxury coaches next year. Thirtyeight of a new type of long-distance coach with seating accommodation for 44 have also been ordered.
CARDIFF TOURS SUCCESSFUL NAORE than 3,000 passengers have so al far been carried on Cardiff Corporation's " see-the-city " bus tours, according to Mr. G. M. Morgan, who successfully applied to the South•Wales Licensing Authority for permission to extend the terms of the licence.
Tags
People
:
S. W. Nelson
,
Coras Iompair Eireann
,
B. Nixon
,
Arnold Musto
,
F. Gordon Tucker
,
H. Bottomley
,
Granville Cooke
,
G. M. Morgan
,
James Drake
,
R. McElheron
,
C. T. Brunner