Road Haulage May Close Railway!
25th September 1953
Page 36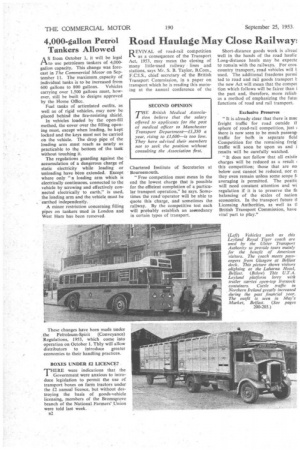 Page 36, 25th September 1953 —
Road Haulage May Close Railway!
Close
REVIVAL of road-rail competition as a consequence of the Transport Act, 1953, may mean the closing of many little-used railway lines and stations, says Mr. S. B. Taylor, B.Com., F.C:I.S., chief secretary of the British Transport Commission, in a paper on transport which he is reading this morning at the annual conference of the
Chartered Institute of Secretaries at Bournemouth.
"Free competition must mean in the end the lowest charge that is possible for the efficient completion of a particular transport operation," he says. Sometimes the road .operator will be able to quote this charge, and sometimes the railway. By the competitive test each will probably establish an ascendancy in certain types of transport. Short-distance goods work is ahead well in the hands of the road haulie Long-distance hauls may be expecte to remain with the railways. For cros, country transport, road vehicles will t used. The additional freedoms permi ted to road and rail goods transport t the new Act will mean that the compet tion which follows will be fairer than i the past and, therefore, more reliab as a method of emphasizing the futui functions of road and rail transport.
Exclusive Preserves "It is already clear that there is mut freight traffic for road outside tl sphere of road-rail competition, just there is now seen to be much passengi traffic for both in separate field Competition for the remaining freigl traffic will soon be upon us and i results will be carefully watched.
"It does not follow that all existit charges will be reduced as a result this competition; those that are no below cost cannot be reduced, nor CE they even remain unless some scope fl averaging is permitted. The positic will need constant attention and wi regulation if it is to preserve the flu balancing of the scales of nation economics. In the transport future tl Licensing Authorities, as well as tl British Transport Commission, have vital part to play."