4,000-gallon Petrol Tankers Allowed
25th September 1953
Page 36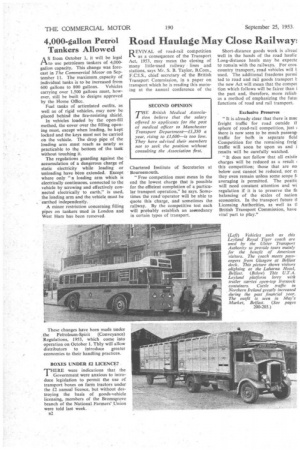 Page 36, 25th September 1953 —
4,000-gallon Petrol Tankers Allowed
Close
A S from October 1, it will be legal tA to use petroleum tankers of 4,000gallon capacity. This change was forecast in The Commercial Motor on September 11. The maximum capacity of individual tanks is to be increased from 600 gallons to 800 gallons. Vehicles carrying over 1,500 gallons must, however, still he built to designs approved by the Home Office.
Fuel tanks of articulated outfits, as well as of rigid vehicles, may now be placed behind the fire-resisting shield.
In vehicles loaded by the open-fill method, the -cover over the filling opening must, except when loading, be kept locked and the keys must not be carried on the vehicle. The drop pipe of the loading arm must reach as nearly as practicable to the bottom of the tank without touching it.
The regulations guarding against the accumulation of a dangerous charge of static electricity while loading or unloading have been extended. Except where only "a loading arm which is electrically continuous, connected to the vehicle by screwing and effectively connected electrically to earth," is used, the loading arm and the vehicle must be , earthed independently.
A minor restriction concerning filling pipes on tankers used in London and West Ham has been removed.
These changes have been made under the Petroleum-Spirit (Conveyance) Regulations, 1953, which come into operation on October 1. Tlay will allow distributors to introduce greater economies to their handling practices.
BOXES UNDER 12 LICENCE?
THERE were indications that the I Government were anxious to introduce legislation to permit the use of transport boxes on farm tractors under the f2 annual licence, but without destroying the basis of goods-vehicle licensing, members of the Bromsgrove branch of the National Fanners' Union were told last week.
B2