Applicant Admits Illegalities
25th September 1953
Page 35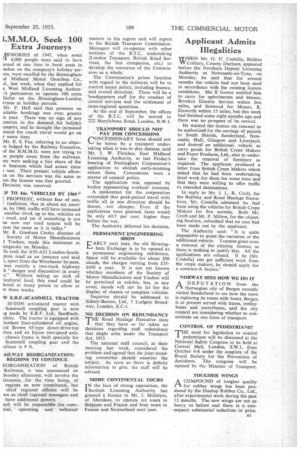 Page 35, 25th September 1953 —
Applicant Admits Illegalities
Close
• WHEN Mr. G. U. Costello, Boldon
• VV Colliery, County Durham, appeared before the Northern Deputy Licensing Authority at Newcastle-on-Tyne, on Monday, he said that for several months the vehicle had not been used in accordance with the existing licence conditions. His B licence entitled him to carry for upholsterers and Messrs. Brookes. Electric Service within five miles, and firewood for Messrs. R. Elsworth within 15 miles, but this work had finished some eight months ago and there was no prospect of its revival.
He wanted the licence on renewal to be authorized for the carriage of parcels to South Shields, Sunderland, Newcastle, Hull, Glasgow and Liverpool, and desired an additional vehicle to carry goods for British Crepe Makers and Paper Products, Ltd., also to undertake the. removal of furniture as required. The applicant produced a letter from British Crepe Makers which stated that he had been undertaking local work for them for some time and that they were willing to offer traffic to extended destinations.
In reply to Mr. J. L. R. Croft, for the Railway and Road Haulage Executives, Mr. Costello admitted he had . been using the vehicles for British Crepe Makers for five months. Both Mr. Croft and Mr. F. Milton, for the objecting hauliers, submitted that no case had been made out by the applicant.
The Authority said: "It is quite impossible to grant the variation or the additional vehicle. I cannot grant even a renewal of the existing licence, as there is nothing to justify this. All the applications are refused. If he [Mr. Costello] can get sufficient work from the crepe makers, he should apply for a contract-A licence."
NORWAY SEES HOW WE DO IT
ADEPUTATION from the Norwegian city of Bergen recently visited Sunderland to see how the town is replacing its trams with buses. Bergen is at present served with trams, trolleybuses and motorbuses, and the city council are considering whether to concentrate on one form of transport.
CONTROL OF PEDESTRIANS?
THE need for legislation to control pedestrians will be discussed at the National Safety Congress to be held at Central Hall, London, S.W.1, from October 6-8 under the auspices of the Royal Society for the Prevention of Accidents. The congress will be opened by the Minister of Transport.
TOUGHER WINGS
A COMPOUND of tougher quality 1-1 for rubber wings has been produced by the Dunlop Rubber Co., Ltd., after experimental work during the past 12 months. The new wings are not as heavy • as before and there is a consequent• substantial reduction in price.