THREE APPLY FOR
25th September 1953
Page 34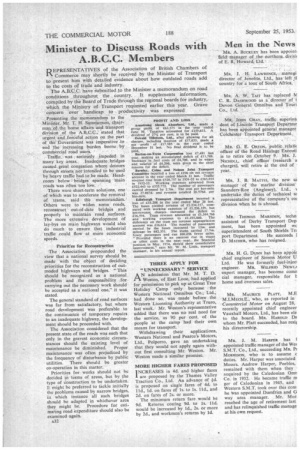 Page 34, 25th September 1953 —
THREE APPLY FOR
Close
" UNNECESSARY 7 SERVICE AN admission' that Mr. M. T. D. Weston,.of East Looe, had. applied fOr'peirnission to pick up at Great Tree Holiday-= Camp only because the Western National Omnibus Co., 'Ltd.; had done so, " was made before . the Western Licensing Authority at Truro, last Week.' Mr. Weston's representative added that there was no real need for the • service, -as 90 per cent. of the people at the camp' had their own means for transport.
Withdrawing their applications, Western National and Pearce's Motors, Ltd., Polperro, gave an undertaking that they would not apply again without first consulting Mr. Weston. Mr. Weston made. a similar promise.
MORE HIGHER FARES PROPOSED INCREASES in 4d. and higher fares I are ,proposed by the Thames Valley Traction Co., Ltd. An advance of Id. is proposed on single fares of 4d. to lid., id. on fares of Is. to Is. lid., and 2d. on fares of 2s. or more.
The minimum return fare would be 9d. Returns costing 9d. to Is. 11d. would be increased by id., 2s. or more by 2d., and workmen's returns by Id.