Minister to Discuss Roads with A.B.C.C. Members
25th September 1953
Page 34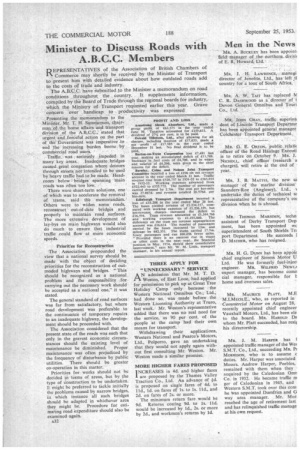 Page 34, 25th September 1953 —
Minister to Discuss Roads with A.B.C.C. Members
Close
REPRESENTATIVES of the Association of British Chambers of Commerce may shortly be received by the Minister of Transport to present him with detailed evidence about how outdated roads add to the costs of trade and industry.
The A.B.C.C. have submitted to the Minister a memorandum on road conditions throughOut. the country. , It supplements information, compiled by the Board of Trade through the regional boards for industry,which the Ministry of Transport requested earlier this year. Grave
concern over handicap to . productivity was expressed . . " . •
Presenting the memorandum to the Minister, Mr. T. H. Sumnierson, chairman ofthe home affairs and transport division of the A_B.C.0 , stated that urgent and lorceful action on the 'part of ..the'Gov_enirrient was imperative .to end the increasing burden borne.. by
commercial rciad users. ' -•
Traffic,was ; seriously. impeded in many-. key areas:. Inadequate:.bridges caused, great congestion where detours through streets-noi'intended' to be-Used by heavy traffic had-.to be made. Headroom below ; bridges' spanning main
roads was often too low.' . •
There were shortLterm solutions, one • of which was to accelerate the removal: of trams, said th.b memerandtirn.' Others were to widen some roads, reconstruct out-Of-date. bridges ,and• properly to nraintain road .surfaces. The more extensive. development of lay-bys on main highways would also do much to ensure that industrial traffic could flow at mOre economic speeds.
Priorit:es for Reconstruction
The Association Propounded the view that a national survey should be made with the object of deciding priorities for the reconstruction of outmoded highways and bridges. "This should be recognized as a national problem and the responsibility carrying out the necessary work should be accepted as a national one," it was stated.
The general standard of road surfaces was far from satisfactory, but where road development was preferable to the continuance of temporary repairs to an inadequate highway, the development should be proceeded with.
The Association considered that the present state of the roads was such that only in the gravest economic circumstances should the existing level of maintenance be diminished. Proper maintenance was often prejudiced by the frequency of disturbance by public utilities. There should be greater co-operation in this matter.
Priorities for works should not be decided in terms of areas, but by the type of Construction to be undertaken. P. might he preferred to tackle initially the problems caused by narrow bridges, in which instance all such bridges should be adapted in whichever area they might be. Procedure for estiMating road expenditure should also be examined again,