Men in the News
25th September 1953
Page 34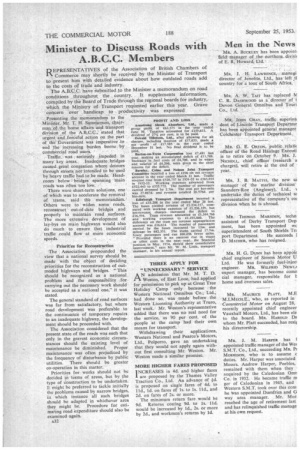 Page 34, 25th September 1953 —
Men in the News
Close
MR. A. BUCKLEY has been appoint, field manager of the northern divisii of E. R: Howard, Ltd.
MR. J. H. LAWRENCE,mana g i director of Jenolite, Ltd., has left .0 country for a tour of South Africa, MR. A. W. TAIT has replaced Is7
C. R. DAstrw000 as a director of t Devon General Omnibus and Touri Co., Ltd.
MR, JOHN GRAY, traffic superinti dent of Lincoln Transport Departme has been appointed general manager Colchester Transport Department.
MR. p. E. OM. ON, public relatic officer of the Road Haulage Executi is to retire OR October 9. MR. J. Mellott., chief officer (research charges), will retire at the end of year.
MR. J., 13: MATTE!, the new so manager of the marine diviiion Saunders-Roe (Anglesey), Ltd., undertake the duties of technical sa representative of the company's col division when he is abroad.
MR. THOMAS MAnsnEN, techn assistant of Derby Transport Dep ment, has been appointed wc superintendent of South Shields Trs port Department. He succeeds 1 D. NI AMER, who has resigned.
MR. H. G. Dorm has been appoir chief engineer of Siriami Motor U Ltd. He was formerly fuel-injeci engineer. MR. WILFRID NEWLS export manager, has become comp &I manager, responsible for t home and overseas sales.
MR. MAURICE PLATT, M.E M.I.IvIecH.E., who, as reported in Commercial Motor on August 28, recently appointed chief engineer Vauxhall Motors, Ltd., has been die to the board. MR. HAROLD DE whom Mr. Platt succeeded, has mil his directorship.
MR. J. M. HARPER has I appointed traffic manager of the Wes S.M.T. Co., Ltd., succeeding Ma. Pi MoluttsoN, who is to assume c duties. Mr. Harper was associated Messrs. Andrew Harper, Peebles, remained with them when they • acquired by the Caledonian Omn Co. in 1932. He became traffic rn ger of Caledonian in 1945, and Western S.M.T. took over this corn he Was appointed Dumfries and G way area manager. Mr. Mor reached the age of retirement last and has relinquished traffic manage at his own request.