Mr. J. Elliot New L.T.E. Ch airman
25th September 1953
Page 33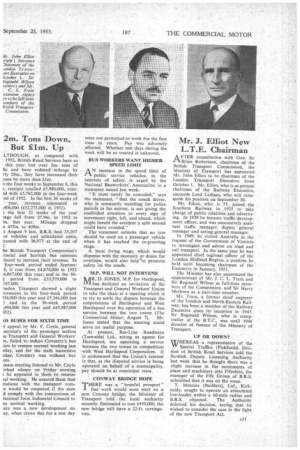 Page 33, 25th September 1953 —
Mr. J. Elliot New L.T.E. Ch airman
Close
Keywords :
Knights Bachelor
,
British Rail
,
British Transport Commission
,
British Railways Board
,
John Elliot
,
United Kingdom
,
London Transport Executive
,
National Freight Corporation
,
London Transport
,
Southern Railway
,
Reginald Wilson
,
Alexander Valentine
,
Politics
AFTER consultation with Gen. Sir Brian Robertson, chairman of the British Transport Commission, the Minister of Transport has appointed Mr. John Elliot to be chairman of the London Transport Executive from October I. Mr. Elliot, who is at present chairman of the Railway Executive, succeeds Lord Latham, who will relinquish his position on September 30.
Mr. Elliot, who is 55, joined the Southern Railway in 1925 to take charge of public relations and advertis-' ing. In 1930 he became traffic development officer, and was successively assistant traffic manager, deputy general manager and acting general manager.
In 1949, he visited Australia at the request of the Government of Victoria to investigate and advise on road and rail transport. In the same year he was appointed chief regional officer of the London Midland Region, a position he held until becoming chairman of the Executive in January, 1951.
The Minister has also announced the appointment of Mr. J. C. L. Train and Sir Reginald Wilson as full-time members of the Commission, and Sir Barry Methven as a part-time member.
Mr. Train, a former chief engineer of the 'London and North-Eastern Railway, has been a member of the Railway Executive since its inception in 1947. Sir Reginald Wilson, who is comptroller of the B.T.C., was until 1946 director of finance of the Ministry of Transport.
UP OR DOWN? \JHEREAS a representative of the Special Traffics (Pickfords) Division of British Road Services told the Scottish Deputy Licensing Authority last week that he thought there was a slight increase in the movements of plant and machinery into Fifeshire, the manager of the Fife Group of B.R.S. submitted that it was on the wane. T. Menzies (Builders), Ltd., . Kirkcaldy, sought to operate an articulated low-loader within a 60-mile radius and B.R.S. objected. The Authority deferred his decision, saying that be wished to consider the case in the light of the new Transport Act.