Road-Rail Battle Opens in Wales
25th September 1953
Page 32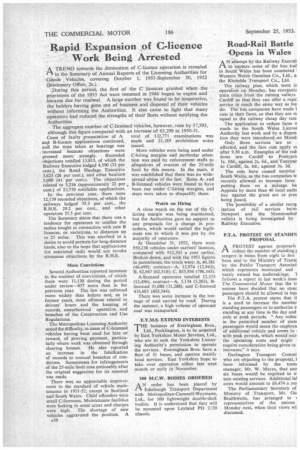 Page 32, 25th September 1953 —
Road-Rail Battle Opens in Wales
Close
AN•aItempt by the Railway Executi to 'capture some of the bus traf in South Wales has been countered I Western Welsh Omnibus Co., Ltd., a; the Rhondda Transport Co., Ltd.
The railway plan, which went in operation on Monday, has reorganiz train times from the mining valleys Cardiff so that they can offer a regul service in much the same way as law do. The bus companies have made 1 cuts in their fares, so that they are ni equal to the railway cheap day rate
The application to reduce fares made to the South Wales Licensi Authority last week and by a dispen. tion they were introduced on Mond:
Only three services are so : affected, and the fare cuts apply en after 9.30 a.m. Examples of the redi tions are: Cardiff to Pontyprii is. 10d., against 2s. 6c1., and Tonypar to Cardiff, 2s. 6d., against 3s. 3d.
The cuts have caused surprise South Wales, as the bus companies-w
recently allowed to increase fares putting them on a mileage ba Appeals by more than 40 local authi ties against the grant are at pres being beard.
The Possibility of a similar reorg ization of rail services betwi Newport and the Monmouthst valleys is being investigated by Railway Executive, P.T.A. PROTEST ON STANDIN PROPOSAL
APROTEST against proposals reduce the number of standing r sengers in buses from eight to five been sent to the Ministry of Transr by the Public Transport Associati which represents municipal and vately owned bus undertakings. 1 follows a report in last week's issuc The Commercial Motor that the tr unions have decided that no static passengers should be allowed in bus
The P.T.A. protest states that 0 is a need to increase the number standing passengers or to authorize e standing at any time in the day and only at peak periods. "Any reduc in the permitted number of shot( passengers would mean the ernployn of additional vehicle and crews to with peak periods, which would ince the operating costs and might • require consideration being given to increases," it says.
Darlington Transport Commi who are objecting to the proposal, 1 been informed by the trans manager, Mr. W. Mayes, that ano six buses would be required to if tam n existing services. Additional lal costs would amount to £6,474 a yea The Parliamentary Secretary of Ministry of Transport, Mr. Gu Braithwaite, has arranged to representatives of the unions Monday next, when their views wil discussed.